Gold Price Hits Fresh 6-Year Highs on Speculative Surge as GLD Expands, Iran Calls Trump 'Idiotic'
Tuesday, 6/25/2019 15:09
GOLD PRICES rallied 1% Tuesday in London to hit fresh 6-year highs against all major currencies on the back of a softer Dollar and fresh US sanctions against Iran, writes Atsuko Whitehouse at BullionVault.
Gold bullion prices climbed in the wholesale market to touch $1438 per ounce – the highest since May 2013 – as the US Dollar index, which tracks the greenback against a basket of other currencies, fell yet again following last week's dovish turn from the Federal Reserve.
Major government bond prices also rose as world stock markets struggled, pulling the yield offered to buyers of 10-year US Treasury debt back to 2-year lows beneath 2.00% per annum.
Mid-afternoon in London, gold bullion was headed for a sixth consecutive gain, jumping 11% from the beginning of June.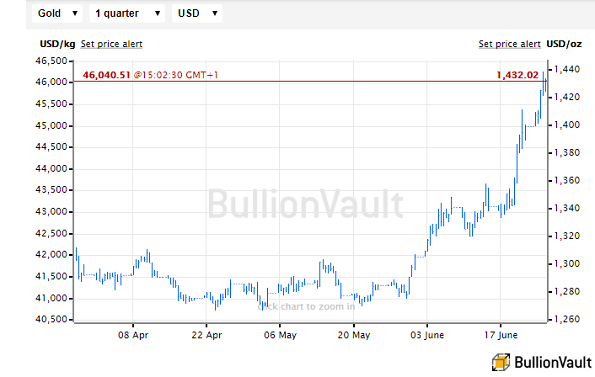 US President Donald Trump meantime said he's imposing new sanctions against the Islamic Republic of Iran's top leadership,
a move called "idiotic"
by Supreme Leader Ali Khamenei, who said Trump has permanently shut any hope of diplomacy between Tehran and Washington.
No.1 gold ETF trust fund the SPDR product (NYSEArca: GLD) yesterday extended its growth after Friday's near-record inflows of 35 tonnes, needing another 2.9 tonnes to back the value of investor positions with the GLD now needing the most bullion since February this year at 801 tonnes.
Open interest in Comex gold future & option contracts meantime swelled again, already expanding by one-third from the last 15 years' historic average.
"That could be triggered by a positive outcome in trade talks between Trump and Chinese President Xi Jinping at [this weekend's] G20 meeting...or healthy US economic data that would reduce the likelihood of rate cuts."
But "the case for providing accommodation has increased," says Federal Reserve Vice Chairman Richard Clarida.
"Especially in the last six or eight weeks, there has been elevated uncertainty about the outlook."
Australian Dollar gold prices extended yet more new all-time highs at A$2067 per ounce, and Yen gold prices rose to the highest since the spike of January 2015 at ¥4947 per gram even as Japanese currency rose to its strongest Dollar exchange-rate in more than 14 months in what pundits called a search for "safer assets".
Platinum prices popped $10 to the upper-end of the last 5-weeks' trading range at $819 per ounce.
But silver again lagged gold prices, rising only to $15.45 and helping the
Gold/Silver Ratio
reach new 26-year highs above 92.