New 6-Year High in Gold Price as GLD Expands Fastest Since 2008 AIG Bail-Out, Comex Bulls Surge
Monday, 6/24/2019 14:11
GOLD PRICES rose to new 6-year highs Monday in London after US gold ETF the GLD showed its fastest 1-day growth in over 10 years, writes Atsuko Whitehouse at BullionVault.
US President Trump meantime said he's ready to impose "significant" sanctions on Iran – now threatening to breach its own agreement to limit nuclear research – while China warned it wants an "equal conversation" if Trump is to meet President Xi at next weekend's G20 summit in Osaka, Japan.
Gold prices added another 0.8% to touch $1410 per ounce in both Asian and then London trade Monday, extending its run to 6-year highs from Friday's break of $1400.
The US Dollar meanwhile slipped again on its trade-weighted index after making its biggest weekly drop in 4 months as US central bank the Federal Reserve signalled a clearly dovish outlook for interest rates.
Friday saw the world's largest
gold-backed ETF
– the SPDR Gold Trust (NYSEArca: GLD) – expand by 4.6% as investor demand grew the number of shares in issue.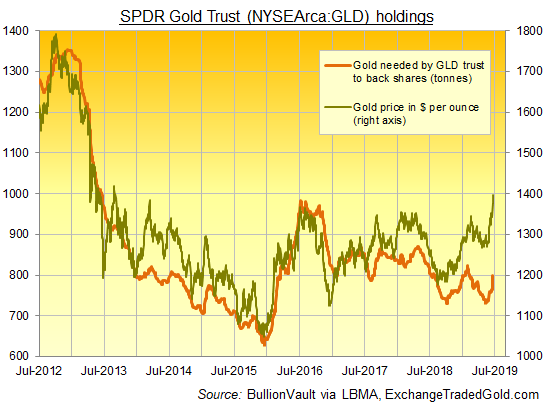 The strongest percentage growth since the day the US Treasury bailed out creditors of
insurance giant AIG in September 2008
, Friday's additions needed the heaviest inflow of gold bullion to back the value of the GLD's shares since February 2009 at 34.9 tonnes.
That still left the GLD at only its largest since February this year however, needing less than 800 tonnes in total, and the GLD was the only New York-listed gold ETF to grow on Friday.
Together that capped the size of the top 3 North American gold ETFs at 1,137 tonnes, their largest since January this year but still 1/3rd smaller than the record peak of December 2012.
Data from US regulator the CFTC meantime said that the net speculative position of hedge funds and other 'Managed Money' traders in Comex gold derivatives contracts grew by more than one-fifth in the week-ending last Tuesday.
Swelling for the 4th week in a row, that net spec' betting in futures and options equaled a notional position of 590 tonnes of gold, the largest since February 2018.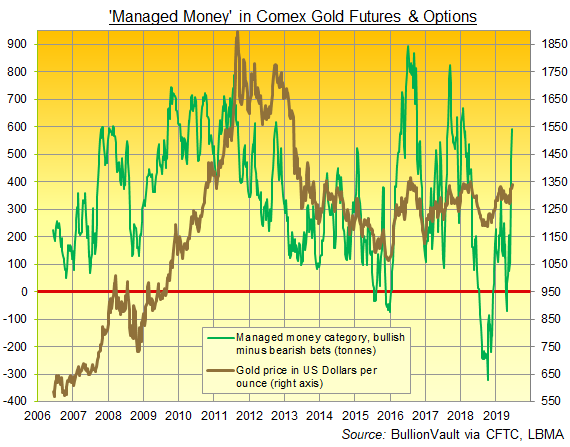 Combining net Comex futures positioning and gold ETF flows "shows a whopping 84% correlation" with the Dollar gold price, says multi-asset manager Charlie Morris of the £1bn Atlantic House funds.
"Investors should take note," Morris writes in his latest Atlas Pulse newsletter, "[because] it is one hell of a tight fit [and] implies that for each million ounces of gold that investors buy, that adds approximately $6.50 onto the gold price.
"To see gold at $1500 you'd want to attract another 15 Moz [466 tonnes] into the market. Is that possible? Of course."
The world's fifth largest gold-buying nation, Turkey meantime saw local gold prices capped at last week's 10-month highs after opponents of President Recep Tayyip Erdoğan
won control of Istanbul in a re-run
of this spring's mayoral election, demanded by his now twice-defeated AKP.
The Turkish Lira jumped on news that Ekrem Imamoglu of the Republican People's Party secured 54% of votes, a far bigger victory than the CHP's narrow win 3 months ago.
Silver prices meantime added just 0.2% to $15.38 per ounce, helping the
Gold/Silver Ratio
of the 2 precious metals rise to a new 26-year high above 91.
Platinum prices also rose but lagged gold's surge, trading 0.6% higher to $815 per ounce.