Cheaper Gold ETF Lists as IAU Hits 1/3rd GLD's Size
Thursday, 6/28/2018 13:23
New SPDR Minishares undercuts gold ETF rivals' fees...
A NEW gold ETF has launched in the United States, targeting smaller investors and carrying the lowest annual fees currently available for gold-price tracker trust funds listed on the stock market.
The new Gold MiniShares (NYSEArca: GLDM) charges less than half the annual expense ratio of sponsor SPDR's own world-leading Gold Trust product (NYSEArca:GLD). It also undercuts rival exchange-traded trust funds now growing faster than that flagship.
Listed in New York in November 2004, the GLD grew to become the world's largest exchange-traded trust product by value when gold prices peaked at the height of the global financial crisis, overtaking SPDR's market-leading US stockmarket tracker on
two days in August 2011
.
Backed by gold bars held at bullion bank HSBC in London, the GLD has since launch charged 0.40% in annual fees, deducting a portion of that cost each day from each share's net asset value.
Rival US gold ETF the iShares Gold Trust (NYSEArca:IAU) also charged 0.40% when it launched in January 2005, but
cut its management expense ratio
to 0.25% in July 2010.
Since then the number of shares issued in the IAU has nearly tripled.
The GLD has meantime shrunk by more than one third.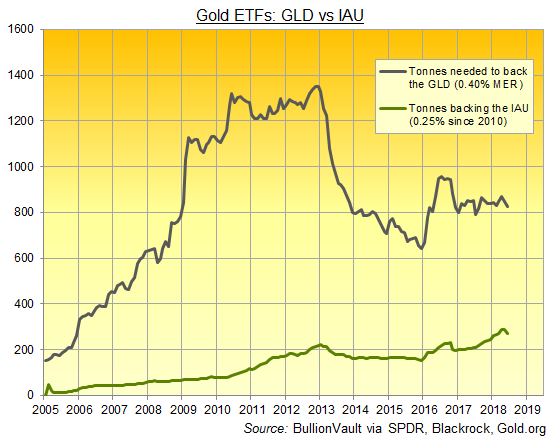 Now backed by 272 tonnes of gold – down 5% from this April's new record – the IAU has grown this spring to one-third the size of the GLD.
Last August a cheaper alternative was launched by ETF newcomer Granite. Also backed by metal held in London, the GraniteShares Gold Trust (NYSEArca:BAR) carries an annual expense ratio of 0.20%.
BAR has leapt in size this month, jumping from needing less than half-a-tonne of backing to needing 6.5 tonnes.
"Major investors with [direct] access to the London vaults can get storage at around 0.1%," reported Bloomberg to users of its data and news terminals in May.
"Online trading platform BullionVault charges as little as 0.12% per annum for allocated gold."
Among physical providers – where the investor owns their gold directly as property, rather than mediated via a trust-fund structure – BullionVault has nearly doubled in size since IAU's price cut of mid-2010, going from 20.7 tonnes eight years ago to
more than 38.6 tonnes today
, held in each client's choice of London, New York, Singapore, Toronto or Zurich and open to trade 24/7.
The new stockmarket-listed GLDM ETF launched at Tuesday morning's New York opening with 20,000 ounces of backing (0.6 tonnes). It offers "a relatively low expense ratio [and]
relatively low share price
," according to SPDR.
Instead of each share representing 1/10th of a Troy ounce as GLD, IAU and BAR do, this new 'Minishare' represents 1/100th, opening at a price of $12.60 as those larger stocks traded between $119 and $126.
"We wanted to provide
broad access to investors
," MarketWatch quotes SDPR's Americas research head Matthew Bartolini, "which means not only a low fee, but also a low share price."
The giant GLD showed 44% ownership by registered financial institutions on regulatory filings made for end-March. Rival fund the IAU showed institutional ownership of nearly 55% according to data from Thomson Reuters.
The size of the IAU has also shown stronger co-movement than the GLD recently with changes in the price of the underlying metal.
Over the last 3 years, the gold price in Dollars has shown an average 12-month correlation of +0.72 with the size of the IAU.
That figure would read +1.0 if they moved exactly in lockstep.
The same figure for the GLD has been +0.60 since June 2015.
"At a minimum, this will
provide some savings
," said US hedge fund manager David Einhorn to his clients back in 2009 when moving Greenlight Capital's gold ETF position into a direct holding of physical bars – still one of his fund's
largest investments
– "as the costs of storing gold are less than the [ETF] fees."
This month the basic state-pension fund of Switzerland said it is switching to physical gold bars from a price-tracking position in derivatives contracts, putting out to tender the custody of what will be a near $700 million holding, worth some 2.2% of AHV/AVS's total assets.