Gold vs. the FTSE-100's New 1999-Beating High at Last
Wednesday, 2/25/2015 20:16
Gold don't pay dividends. Not that it needed them as the FTSE crashed, rose, crashed & rose again since New Year's Eve 1999...
WELCOME to the 21st century for London's FTSE-100 at last! writes Adrian Ash at physical gold and silver exchange BullionVault.
Yes, after waiting 15 years, 1 month and 3 weeks, that stock-market index...tracking the UK's 100 largest listed companies...closed Tuesday above the record-peak it set on New Year's Eve 1999.
"Don't forget dividend income!" gasps every last stockbroker and investment bank.
Indeed, if you bought the FTSE-100 just before the party to end all parties...and re-invested your dividends ever since...you would have
already made 67% total returns
over the last 15 years, reckons AXA Wealth.
Whoo-hoo! That's a real return of 15% after you account for inflation...a massive one per cent per year.
Well worth the risk, as I'm sure your financial advisor won't tell you today.
What if you had bought housing, long-dated bonds, silver or gold instead...?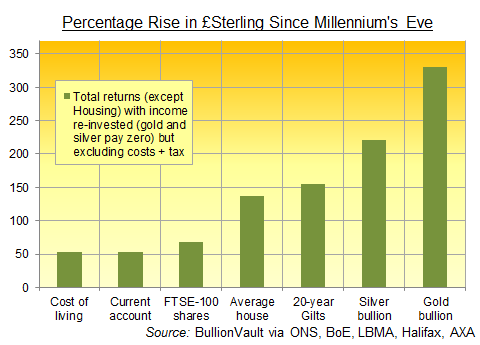 Investment income matters of course, and gold...like silver...offers none. So it would be insane to buy nothing but gold, and bet your pension on a repeat of the last 15 years.
But given the stark challenge those 15 years make to conventional investment 'wisdom', it would be equally crazy to buy nothing but shares, let alone ignore physical bullion.
The FTSE-100 has doubled since the crash lows of the financial crisis. Gold is little changed from a half-decade ago. Yet it remains the best performing asset-class for UK investors so far this century, well ahead of even silver. Bonds come next. And they haven't dropped...never mind crashed...since long before New Year's Eve 1999.
Such parties aren't meant to last, as the DotCom Bubble...the Global Credit Boom...and yes, the gold and silver bull markets...all proved since the FTSE-100 briefly hit this current level 15 years ago.
Judgment Day now looks long overdue in fixed-income to my mind. UK Gilt yields have never been lower, meaning bond prices have never been higher. The German government today raised new loans at negative yields for the ninth time so far this year.
Yes, people claiming to be 'investors' are paying governments to borrow cash...cash entrusted to them by savers like you and me.
Owning a little rare, non-yielding property today could mean you care a lot less when everyone else tries to run from the destruction.