Rising Incomes, Rising Gold Demand
Tuesday, 9/20/2016 11:24
Chinese and Indian households already buy half annual gold sales...
I TALK A LOT about the differences between gold's Fear Trade and Love Trade, writes Frank Holmes at US Global Investors.
Loyal readers know that the Fear Trade is associated with negative real interest rates and excessive money supply, which triggers an imbalance of monetary and fiscal policies and macroeconomic uncertainty. Historically, investors in the US, Japan, Germany and the UK have been the main drivers of the global Fear Trade.
The Love Trade, on the other hand, is all about gold's powerful allure and its timeless role as a gift without peer.
Gold has two significant benefits: one, as beautiful gold jewelry to be worn, and two, as financial security. Although gold jewelry is often given as a special gift in Western countries, it pales in comparison to what takes place in China and India, or "Chindia" – home to about 40% of the world's population, and the two largest gold importers.
The two Asian countries together accounted for more than half of total global gold jewelry demand in 2015. The US, by comparison, represented about 5% of demand. All of Europe, even less.
Significant to boosting the metal's price are important cultural events, from India's upcoming Diwali festival and fourth-quarter wedding season to the Chinese New Year in January. Going back decades, the yellow metal has tended to perform best in September, when jewelry, coin and bullion dealers restock their inventories in preparation for these celebrations.
Also known as the Festival of Lights, Diwali begins October 30 this year, followed by the wedding season. To give you a sense of scale, as many as 150 million Indian weddings will be held between 2011 and 2021, according to the Government of India. For each wedding, between 0.7 and 70 ounces of gold are typically purchased, which is equivalent to 35% to 40% of total wedding expenses.
Of course, you can't convert cash into gold if you don't have the cash. What's more, gold priced in Indian Rupees and Chinese Renminbi has really taken off, making it more expensive to Indian and Chinese consumers than America buyers.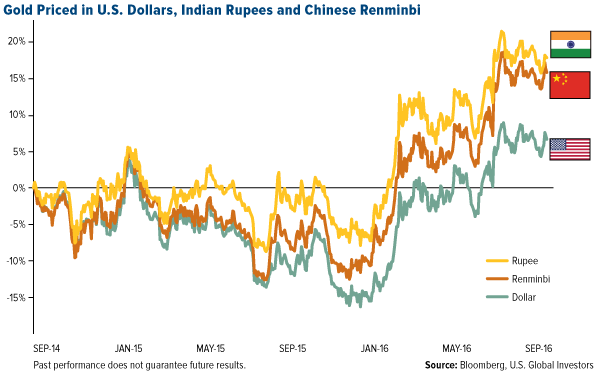 Gold consumption, then, really depends on household income. Fortunately, income growth in Chindia is booming with the rise of the middle class.
And just how much income growth are we talking about? According to Boston Consulting Group (BCG) data, consumer spending in both China and India will soon overtake spending in Germany and France, and is on a trajectory to match Japan's level of consumption.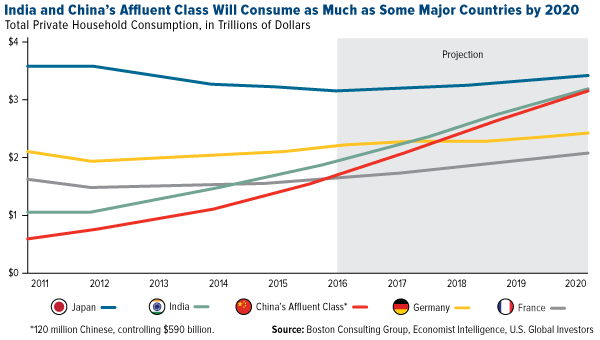 By 2020, the number of "affluent" households in China – those with annual incomes of at least $20,000 – will grow to 280 million, equal to 30% of the country's urban population. That's quite a leap up from today's 120 million households labeled as "affluent." It's also good news for the Love Trade.
As for India, the number of middle class consumers is expected to triple between now and 2025, eventually reaching 89 million people, according to McKinsey & Company.
What I find even more incredible is that by 2030, the economic output of India's top five cities is expected to reach the size of five middle-income countries today, according to McKinsey. Mumbai's massive $245 billion economy, for example, could soon exceed the entire country of Malaysia. Likewise, India's capital city of New Delhi could one day be bigger than the Philippines.
This presents a huge opportunity for the Love Trade to expand even more, as rising incomes and economic momentum have been a tailwind for gold demand.
I've pointed out before the relationship between M2 money supply growth in China and the price of gold. Money supply isn't the same as income growth, of course. But it serves as further evidence that the more money that's available – and the more people who have access to that money – the more it can be converted into gold.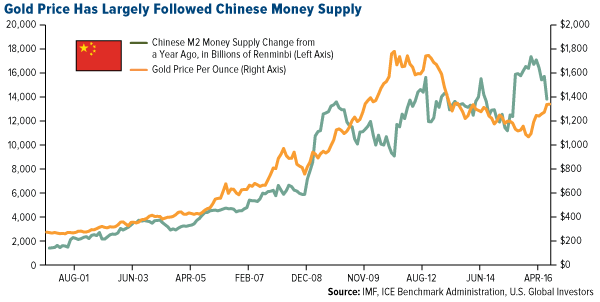 But in June, I asked if India is the new China. I think the jury's still out on that question, but what we do know is that India has pulled ahead of China to become the world's fastest growing large economy.
In its June update to its world economic outlook, the International Monetary Fund (IMF) sees India advancing 7.4% this year, compared to China's 6.6%. On a relative basis, these are much stronger growth rates than what we find in advanced economies such as the US, European Union and Japan.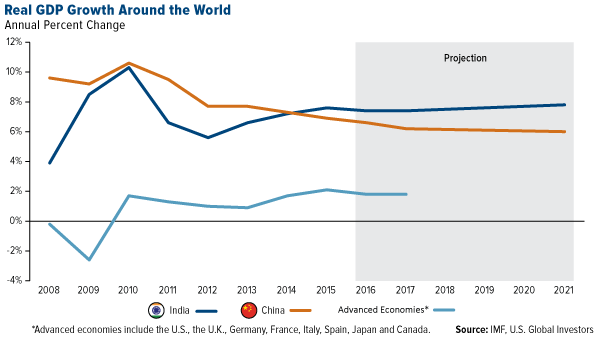 India's manufacturing sector appears to be growing at a faster clip than China's, when we compare the two Asian giants' purchasing manager's indices (PMI). For the month of August, the India PMI rose to 52.6 from 51.8 in July, indicating healthy sector expansion.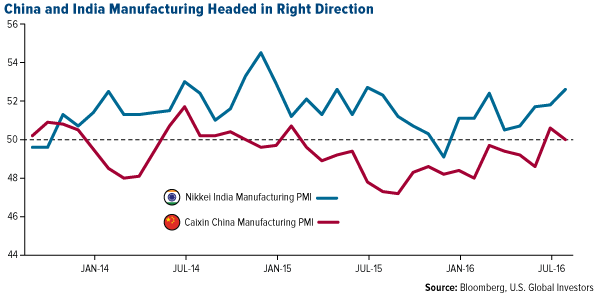 Meanwhile, China logged a neutral 50, indicating neither expansion nor contraction. But as you can see above, the trend is headed in the right direction and making steady improvements from its recent low of 47.2 in September 2015.
For the one-year period, the First Trust ISE Chindia Index Fund (FNI) is up more than 23%, as of September 4, suggesting the bad news we've been seeing in the media might be over, and the markets in China and India may have reached a bottom. This is good for global growth and the Love Trade in gold.