Central Banks Buy Gold Fastest Since 2012
Tuesday, 10/02/2018 12:39
Poland joins India and Egypt as gold buying spreads...
CENTRAL BANKS are buying gold for their reserves at the fastest pace in 6 years according to new analysis, writes Atsuko Whitehouse at BullionVault.
January-to-September saw 264 tonnes added to official-sector gold holdings says a note from Australia-based financial group Macquarie, "by far the most at this stage of the year of any period in the last six years."
That total includes 9 tonnes added to the gold reserves of Poland – the first growth for any European Union's
gold bullion
holdings so far in the 21st Century.
Across the world, the total adds 0.8% to official-sector holdings for 2018 to date.
Already by end-June, data compiled by market-development group the World Gold Council said, central banks had added a net total of 193 tonnes of gold to their reserves in the first half of 2018 – an 8% increase from the 178t bought in the same period last year.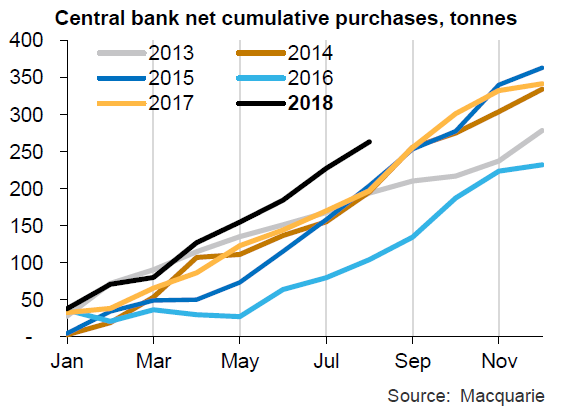 During the first 6 months of this year, gold buying by Russia, Turkey and Kazakhstan accounted for 86% of central bank purchases.
Egypt bought gold for the first time since 1978, while India, Indonesia, Thailand and the Philippines re-entered the market after multi-year absences.
The Reserve Bank of India added 8 tonnes of gold, buying for the first time in almost nine years, and then added another 7 tonnes by the end of August according to the latest data from the World Gold Council.
The RBI last bought gold in late 2009, acquiring 200 tonnes from the International Monetary Fund to become the No.11 largest holder.
"[This] suggests gold's appeal to central banks might be widening," says Macquarie.
"Diversification will continue to be an important driver of demand, as will the transition to a multipolar currency reserves system over the coming years."
The heaviest central-bank gold buyer, Russia has reduced its holdings of US government bonds by about four-fifths so far this year, leading to speculation that Moscow is dumping American assets to reduce Washington's power over it.
"[Gold] is a 100% guarantee from legal and political risks," the central bank's First Deputy Governor Dmitry Tulin said earlier this year.
On BullionVault's analysis, Moscow has bought
70% of Russia's gold-mining output
since 2013, when international sanctions were first imposed following the Russian military intervention in Ukraine.
More sanctions were added after US intelligence agencies concluded that Moscow interfered in the 2016 presidential election, won by Donald Trump. The latest US sanctions aim to punish Vladimir Putin's government for the March 2018 nerve-agent attack on former double agent Sergei Skripal and his daughter in the UK.
"In a gold market struggling from too much supply and not enough demand," says Macquarie, "[central-bank buying] has been a lifeline...the only unambiguously positive sector at the moment."