India's Pre-Diwali Gold Buying 'Halved' by New AML Rule
Friday, 9/22/2017 17:57
Buying gold legally gets tougher in world No.2 even as imports triple...
GOLD BUYING in the world's No.2 consumer market of India is running at just half typical September levels according to press reports, with dealers blaming a change to the country's anti-money laundering rules for weak sales ahead of next month's peak Diwali festival demand.
With Indian households accounting for around one-quarter of all gold buying globally over the last 5 years, so-called "Know Your Client" rules have since 23 August required people to give their tax-code I.D. when buying more than 50,000 Rupees of gold – down from a previous floor of Rs 200,000.
Equal to $775 at current Rupee-exchange rates, that exposes many more consumers to India's increasingly tight Anti-Money Laundering rules (known as AML) and that is "keeping them away from jewellers,"
reports the Economic Times
.
The key autumn gold-buying festival of Diwali comes next month. Bullion imports
tripled between April and August
from the same period last year, figures said last week, but that was led by a surge in duty-free imports from South Korea, with which India has a special free-trade agreement.
After
seeking to "tweak"
that deal to block inflows of duty-free bullion, New Delhi has now restricted all gold imports from the Asian nation citing the fact that it is not a gold-mining producer.
Widening that ban however to all other countries to solve what the government sees as a prime cause of India's current account deficit with the rest of the world "may involve disputes in the World Trade Organisation," says
an un-named Finance Ministry official
.
"[So] we don't favour a blanket restriction on gold imports."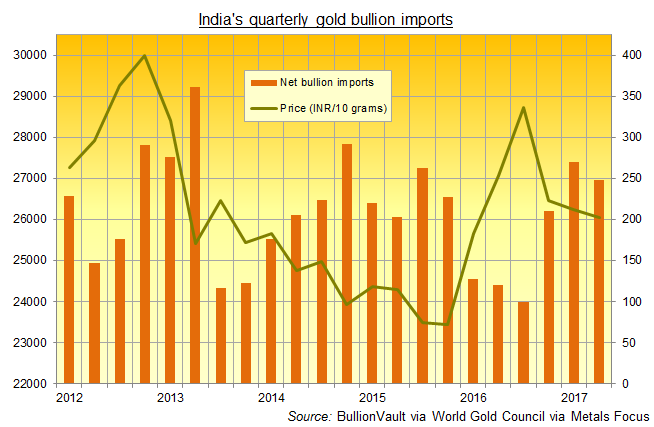 Un-named sources meantime tell the Economic Times that India's average gold sales nationwide are currently just half the typical September level of 2.5 tonnes.
"Jewellers are sceptical about festive demand,"
Reuters quotes
a Mumbai dealer. "[So] they are keeping bare-minimum inventory."
"There were very little footfall in jewellery exhibitions that took place in the last fortnight," adds Surendra Mehta, national secretary at the India Bullion & Jewellers Association.
Debate over the need for and costs of demonetisation has raged again this summer, after new data said 99% of all the cancelled bank-notes
were legally deposited
into India's banking system as ordered – challenging the government's claim that high-value notes were held by criminals and tax dodgers – and Reserve Bank of India's widely-respected former chief Raghuram Rajan said he had
advised against the move
.
Separate rule changes in late-2016 also imposed new limits for the quantity of gold a person can legally own without having to prove where they got the money to buy it.
"Tax experts say that
you need not worry
if you are able to explain the source of your investment in gold," says the
Financial Express
, noting the 500 gram allowance for a married woman, 250g for single women, and 100g for a man.
Despite government and media attacks on gold as an "unproductive" investment, and with gold still forming the core of bridal dowries in India, a
new survey this week
said the average household finds 84% of its wealth in its own home and other real estate, with 11% in gold and only 5% in bank savings accounts and other financial products such as equities or retirement funds.
Customs officials in New Delhi on Tuesday arrested an Egyptian air-passenger travelling from Dubai for attempting to
smuggle 10 kilos of gold
through the IGI terminal, hidden in his trousers.
On Friday the Enforcement Directorate in Mumbai arrested a local bullion dealer for
buying over a quarter-of-a-tonne
of gold using cash apparently transferred illegally to his company after last November's sudden demonestisation deadline.