Buy Gold Coins, Lose 8% on a 6% Profit
Wednesday, 2/24/2016 17:29
Want to buy gold? If you don't hold it, you might get to make a profit...!
YOU typically buy gold because you want to defend your savings, writes Adrian Ash at BullionVault.
Yet many people insist on giving away 10% of their money – or more – every time they
buy and sell gold coins
or small bars.
February 2016, for instance, has seen gold's best monthly rise since November 2008 in terms of the British Pound, rising over 14% as Sterling has sunk
amid the growing Brexit crisis
.
That's a bigger gain than 97% of all months in the last half-century.
Yet incredibly, that would have delivered little if any profit to a UK saver who now sells gold coins which they chose to buy just before this month's surge. Because the gap between prices to buy and prices to sell the UK's most popular gold coins runs to 10 pence in the Pound and more.
The Royal Mint, for example, now enables you to buy gold Sovereigns directly from its shop online, rather than only through independent retail distributors.
Depending on how many gold coins you buy, it will cost you between 8% and 12% above the 'spot' price of gold quoted in London's wholesale bullion market. When you come to sell, the Mint will pay you 98% of the spot price on that day, provided you stored them at the Mint in the meantime.
So on a flat price, and ignoring the Mint's storage charge in the meantime, you would lose 10-14% of your initial outlay buying and selling gold Sovereigns directly with their issuer, the Royal Mint.
A good price gain will in fact cost you money too, even if you shop around for better quotes to buy gold Sovereigns or to sell them.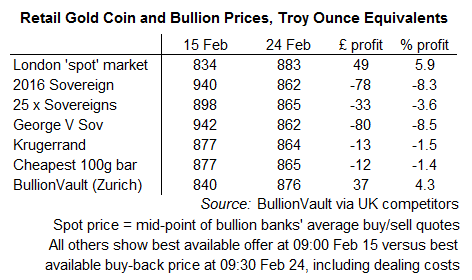 Over the last week and a bit, gold priced in Sterling rose almost 6% in the wholesale spot market of large, 400-ounce bars. Yet you would have lost money buying and selling retail units, even if you bought in bulk.
This table shows the sale and re-purchase price of coins and a small bar, as quoted by leading UK retailers, against the price for buying and selling gold already stored securely in Zurich, Switzerland using BullionVault, the world's largest physical precious metals exchange for private investors online.
All prices are converted into Troy ounce equivalents, so that you can compare prices and costs more easily. And even with a 5.9% rise in spot prices, only those UK investors choosing to buy vaulted gold bullion – held in the same, large-bar format as the spot wholesale market trades – would have turned a profit.
Yes, storing physical gold in specialist vaults comes at a charge. On BullionVault it costs $4 minimum per month (or part thereof), currently £2.90. So including that fee, the total return to a UK saver buying 1 ounce of gold on 15 February and selling it again on 24 February would have been 4.0%.
"Ah, but if you don't hold it you don't own it!" says the idiot in chat rooms and on comment threads. But you might at least get to make a profit from it. Whereas our wise friend confuses ownership with possession, and at a cost so huge, it undoes the whole purpose of wanting to buy gold in the first place.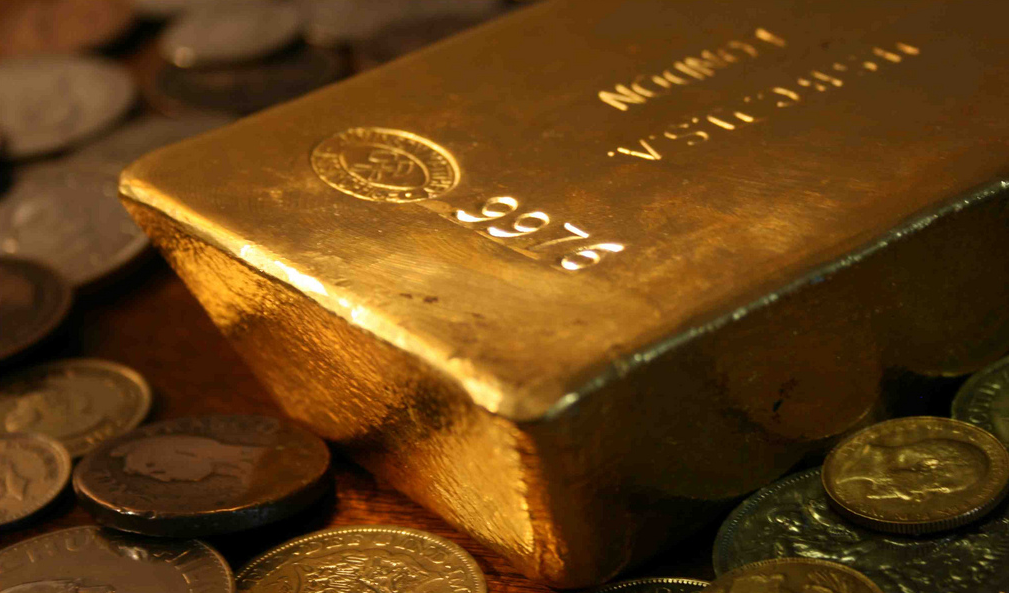 Traders in the professional gold market don't buy Sovereigns, Krugerrands or small bars. Instead, they enjoy the most competitive gold prices in the world. Refineries, bullion banks, jewelry fabricators, mints, government agencies, technology firms, hedge funds and large financial institutions only deal in what is known as Good Delivery gold – large 400-ounce bars made by a small group of market-approved refineries.
These gold bars
must also be kept in special, market-approved vaults. That way, they retain their status as Good Delivery, with their size, fineness and value warranted by the original refiner.
If you're not trading these Good Delivery bars, you're locked out of the vault. Which is where BullionVault comes in. Since 2005, it has given private individuals like you direct access to the physical security, low costs and instant dealing previously enjoyed only by the largest gold-market players.
Why lose 10-14% of your money instead? To get the hassle, worry and risk of carrying home the gold coins you buy from a shop? To get the hassle, worry and risk of then finding somewhere safe to keep them? To get the hassle, worry, risk and cost of posting or carrying them back when you sell?
If you want to buy gold because you want to defend your savings, then you will want to cut your costs to the bone, while getting the utmost security. You will most likely want the ability, if needed, to sell at any time of day or night, weekends included. (The spot price doesn't sleep Monday to Friday, unlike retailers.) And if you're right to buy gold because you fear some kind of economic, financial or social meltdown in your own country, then you are surely right to buy gold and store it overseas.
Zurich remains the most popular location for buying, owning and then selling physical gold on BullionVault. Or you can choose London, New York, Singapore or Toronto.
All costs are the same
, and all markets are open 24/7.
You can also buy, own and sell silver if you wish. That saves UK investors 30% or more compared to coin and bar retailers' prices to buy and sell. Again, you'll
own your bullion outright
as your personal property. You just won't have the hassle, worry, costs or risk of having to handle it yourself.
Silver has risen 12% versus the Pound in February, less dramatic than gold. It's also less dramatic against silver's historical record (beating 90% of all months since 1966), and much further still from break-even for anyone buying silver coins or bars at the end of January.
That's because, on top of the 10-30% retail dealing spread, silver coins and bars also carry 20% VAT sales tax – money which private investors cannot claim back when they sell.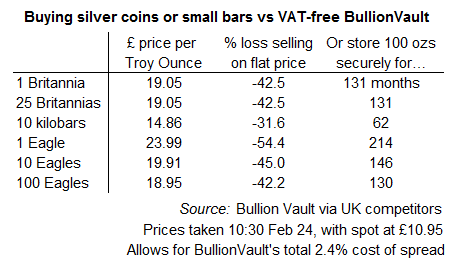 You can sidestep this tax if you wish. Again, saving this huge cost also means sidestepping the hassle and worry of collecting, hiding and then walking through town with your metal in your pocket, or trying to find a postal service who'll ship it for you. Because buying silver inside professional vaults means you can avoid VAT sales tax, and only pay it when and if you ever choose to take possession of your silver, withdrawing it from safe storage.
Yes, you can do that using BullionVault. The metal you buy is your physical property after all. But meantime, why trigger the huge extra expense of small-bar or coin fabrication? The storage charge, which includes insurance, is a fraction of the money you'll throw away trying to deal retail silver bars or coin. And buying gold and silver should help defend your savings, not destroy them. It doesn't need to give you a headache about security or physical risk either.