Japan's Biggest No-Brainer Trade
Thursday, 5/30/2013 18:26
Forget the Nikkei, and look beyond the Yen to gold prices...

The DECLINE of the Yen has been giant so far against the US Dollar, says Steve Sjuggerud's Daily Wealth.
It's no surprise to us that the Yen is falling. Japan's leaders are committed to sending the value of their currency lower and lower. They aim to stimulate Japan's sluggish economy with a devalued currency.
And the recent decline in the value of the Yen is the latest chapter in a huge story. It's the story of the Yen's decline in terms of gold.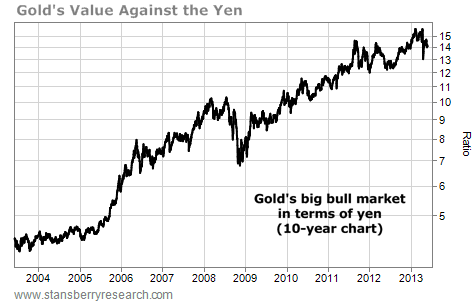 Regular readers know we don't see gold as a conventional investment. We see it as "real money".
As you can see from the 10-year chart of gold prices in Yen terms, gold has been rising in value against the Yen for a long time. And with Japan's leader committed to devaluing the Yen further, we expect this trend to continue.
Governments aren't good at much, but they've got the "devaluing currency" thing down pat...which makes this close to a "no brainer" long-term trade.