The Portuguese airline passenger
Monday, 5/01/2006 20:23
The story of a smart investor.
Will everything stop ?
I've never been to Michigan but it has a reputation for being home to people who say that there's not much point planning for serious financial crisis. Apparently they believe that when it happens the aeroplanes won't fly, the gas stations will be empty, and they'll be wandering round the back-woods with a gun.
Portugal I have been to, and I saw what happened there. It's a land blessed with a wonderful landscape and climate, the best seafood in Europe, and a cultural history which compares with any in the world. But even a place as easy to love as Portugal can have its share of bad government, and that's how it happened that in 1979 Portugal was emerging from a period of extreme right then left wing governments with an economy in tatters and inflation rampant.
Holiday destination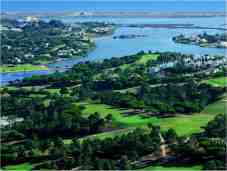 In the early 80s I was one of tens of thousands of northern Europeans who suddenly found themselves able to fly to Portugal's southern coast and play bad golf, in the sunshine, and on wonderful new golf courses built and owned by northern European companies. An all inclusive week there cost about the same as dinner for two in a good London restaurant. I never met nor even saw a Portuguese golfer.
TAP - the national airline - had long since given up marketing to the impoverished Portuguese people. Instead it was flying planeloads of foreigners in from London, Frankfurt, Stockholm and Paris. On my fifth trip I heard my first word of Portuguese spoken on-board, which seemed to surprise our air-hostess even more than me, so rare had the indigenous passenger become. But he turned out to be an entertaining travelling companion and we chatted for 3 hours.
Protecting capital
In the early 70s he had owned a concrete distribution business which was 'not the biggest'. Then, as he looked on with increasing nervousness at domestic political developments, he was lucky enough to receive an offer from a much bigger company. It was not an offer which he would have thought of accepting even two years previously, but by then he felt differently, and he sold. Still far from a rich man he had struggled with what to do next, until he decided he would opt out of business for a while and protect his capital, which led him to Switzerland, and to gold.
Over the subsequent eight years Portuguese assets were in freefall while his gold was multiplying his purchasing power by the month. So when, in 1979, Portugal emerged blinking into the light of a newly meaningful democracy he alone had the local purchasing power to buy out his previous predator and prosper in the land of opportunity which Portugal had again become - for those who had guarded their capital.
The dispossessed
As I was filling up the car at a gleaming fuel station I noticed all the cars were hire cars, and even the helpful loudspeaker system told me how to use the pump in polite English. Then, as I drove with my friends to the next immaculate golf course, I remember looking on with a strange mixture of embarrassment, sympathy, and relief, as flatbed trucks carrying twenty or so Portuguese labourers trundled from one foreign-owned building site to the next. These were scenes which I will never forget - straight from the pages of "The Grapes of Wrath".
Now - twenty two years later - many of those labourers will have rebuilt their economic lives and be visiting the petrol station in their own cars. They may even catch a plane occasionally. Whatever happens in the coming years I believe we too will emerge from the crisis which threatens us. My point is simply that a little understanding now could save an enormous amount of virtuous hard work later; probably not for everyone, but possibly for us.