Total 2016 Silver Demand Hits Record High
Friday, 11/18/2016 13:08
Silver ETF and exchanges' warehouse build confirms 4th consecutive supply deficit vs. demand...
SILVER DEMAND worldwide hit a new all-time record in 2016 according to the latest data from leading market analysts Thomson Reuters GFMS, boosted by ETF trust fund investment and strong stockpiling in trading-exchange approved warehouses, writes Adrian Ash at BullionVault.
Using the 2016 estimates from GFMS published this week for the Washington-based
Silver Institute
, BullionVault analysis puts this year's total global silver demand at more than 37,000 tonnes – a rise of 2.8% from last year.
Mine supply lagged that total by over 9,500 tonnes, slipping 0.7% from 2015's record high – the first drop since 2001.
Added to government sales, scrap recycling flows, and net of silver miner de-hedging – where producers closed outstanding 'short' positions taken to protect against price drops – total supply has fallen to a 3-year low beneath 31,500 tonnes.
Down 2.2% from 2015, that's almost 6% below the 2010 peak on BullionVault's analysis of GFMS's new data.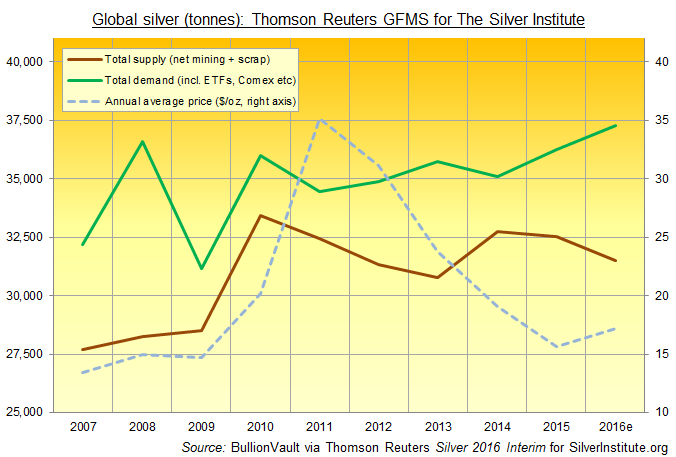 Falling 9% to just over 31,000 tonnes – the lowest level since 2012 – the decline in physical off-take was led by a drop of almost one-quarter in coin and bar demand, net of investor selling.
Accounting for exchange-traded trust funds however, such as the iShares Silver Trust (NYSEArca:SLV) , plus derivatives exchange warehouse stocks – such as the US Comex and China's SHFE – total visible demand will have outstripped total supply by 1,600 tonnes on GFMS's data.
The fourth consecutive shortfall of supply against demand, this marks the 7th
supply deficit in silver
of the last 10 years.
"While such deficits do not necessarily influence prices in the near term," said
senior GFMS analyst Johann Wiebe
, presenting the new report at Wednesday night's Silver Institute dinner in New York, "multiple years of annual deficits can begin to apply upward pressure to prices in subsequent periods."
This year's drop in bar and coin demand "is unsurprising," Wiebe explained, "given the strong increase recorded in [2015] when investors entered the market en masse to bargain hunt."
Annual average silver prices fell by double-digit percentages four years running between 2012 and 2015, retreating to $15.68 from the 2011 peak of $35 per ounce.
So far in 2016,
silver prices
have averaged 9.4% above 2015's six-year annual low.