Punishment for a central banker
Friday, 2/17/2006 13:20
What Sweden did to the man who caused currency chaos
Silver bullion leaves
Sweden in the 17th century was not the peaceable country of today. Enjoying the best metalworking and gun-making technology of the time the Swedes were the military masters of northern Europe. There were frequent wars against Russia, Denmark, Poland or Germany. They were expensive too.
In 1604 an equivalence of bullion to coined money was enacted in Sweden, granting the right to citizens to turn their metal into money, but it demanded a 15% coinage fee, a profit which would have accumulated to the treasury and helped to finance the Swedish army.
This was a steep cost and it made the scheme ineffective. Swedish silver bullion simply exited to Amsterdam to be coined by cheaper Dutch banks into Florins. These were used to buy trade goods which were in turn sold back in Sweden. So Sweden's silver quickly disappeared overseas and the relationship of money to silver was soon lost.
Copper reappears
Thereafter, in the absence of anything better, and because Sweden controlled the world's best copper mines, an old currency of highly overvalued copper coins started to circulate.
The Swedes were running on empty as regards precious metal, but they were still a mighty military force, and these copper coins were further issued in large numbers by Gustavus II in 1625 to finance yet another war, this time against the vengeful and expansionist Ferdinand II of Germany who was on a mission to impose his version of Rome's will on the Protestant north.
But now the military debts of the Swedish state combined disastrously with a substantially overvalued copper coinage and a legislative structure designed for commodity money. There was no limit on the amount of money in circulation, and as a result Sweden was thrown into an absurd copper currency system.
Mined copper was minted to achieve its overvalued status, and promptly sunk the money to its commodity production cost, which in a country rich in copper mines was small. The savings of the population – one of the few European peoples not to have been oppressed under serfdom – were wiped out.
Paper takes over
Gustavus' daughter Christina who ascended the throne aged 6, had 12 years of childhood to comprehend these monetary mysteries before her majority at 18, whereupon she instructed the issue of copper backed exchequer bills called 'assignats' which circulated as money, and then a bank was incorporated which took in copper and issued receipts called transport notes, which were the origin of the modern banknote. The notes were pleasing to use and - a problem with early paper - easy to forge.
Back to copper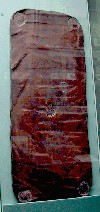 For a while this popular paper filled the bank with copper. But the forgeries caused it to lose credibility and demand swerved back to the solidity of metal. So the vaulted copper was cut into sheets, roughly stamped, and issued back into circulation as money in ingots weighing as much as 15 kilograms [the example shown, from the British Museum, is dated 1658 and about 65 cm long].
People had to walk the streets carrying these great slabs balanced on their heads. It was only inconvenient at first, but then the world market dumped the commodity copper price as Swedish mines lost their dominance and the money became entirely useless as a store of value as well. The people suffered; not least, one imagines, from neck ache.
It eventually fell to Baron George Heinrich de Goertz to offer his services as central banker and sort out the mess.
The original dollar
He minted a new representative currency in copper, validated with the kings head and a legal tender face value of a "daler" – the original dollar. He neither limited the issue nor ensured the quality of the coins, which were beneath the technical capabilities of the day and were therefore very easy to forge. Moreover he attempted this exercise on behalf of an administration which had lost virtually all financial credibility with its population; an error he then compounded by allowing to develop a widely held belief that at some unspecified time in the future tax collectors would refuse the coins in payment of dues. His currency became detested and soon sloshed around the Swedish economy depreciating rapidly.
Goertz had been a successful minister in other areas of government and he never profited from the debacle, but he was still blamed for the financial misery and the associated irreversible decline in Swedish power.
He was eventually charged with "ruining public credit with imaginary money". He put up a brave and articulate defence - on his own behalf because he was denied counsel. It was not enough. He was beheaded, on March 3rd 1719. The punishment was widely considered appropriate.