Platinum Price Below Gold for Longest Since 19th Century
Monday, 4/10/2017 18:30
Platinum's 'positive story not being told' as price discount to gold hits $300 per ounce...
PLATINUM PRICES have now traded below the price of gold for more than two years, extending the precious metal's discount to its longest run since 1900.
Platinum's daily benchmark in London – heart of the world's physical bullion market – has consistently fixed beneath the price of gold per ounce every day since mid-January 2015, beating the run of discounts between 2011 and 2013.
Before a brief drop below zero following the Lehman Brothers' collapse of late 2008, the price of platinum hadn't traded below gold on any day since 1996.
Platinum's discount to gold prices widened Monday above $300 per ounce, a record when first reached in June 2016, just ahead of the UK's Brexit referendum on quitting the European Union.
On an annual average basis, platinum prices twice fell below gold for two years running in the early 1980s.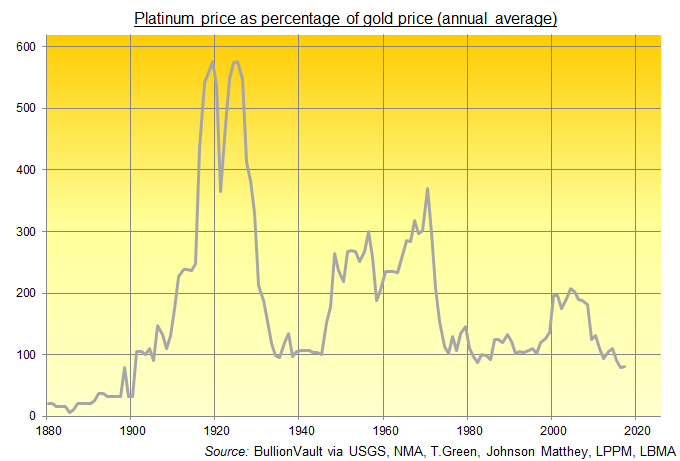 Platinum prices
have so far lagged 2017 gains in other precious metals amid a blizzard of negative headlines over toxic emissions from diesel engines – the metal's single heaviest source of demand, where platinum helps reduce those emissions in autocatalysts and other filters.
Responding last week to the crescendo of negative research and coverage around nitrogen oxides and particulate emissions, London Mayor Sadiq Khan said the city will
charge drivers of older diesel vehicles
as much as £12.50 per day, on top of the £11.50 congestion charge billed to all vehicles entering the central zone during working hours on weekdays.
"There is a positive story to be told in how platinum can be used to meet and go beyond current Euro 6 standards," wrote Jonathan Butler at Japanese conglomerate Mitsubishi last month, referring to the latest Europe-wide emissions standards for new vehicles.
"But this is not yet being told in the mainstream media."
Widely followed and applied elsewhere in the world, the European standards have now seen China reach its own equivalent of the previous Euro 5 rules. Tighter standards typically see heavier loading of platinum per vehicle, as the catalysts have to work harder to reduce emissions further.
In March, and despite the negative headlines on diesel vehicles, British car buyers registered "almost a quarter of a million new diesel cars – an all-time high," according to
a new fact sheet
from the Society of Motor Manufacturers and Traders today.
"The latest Euro 6 vehicles are the cleanest in history," the SMMT goes on, saying that London buses fitted with the latest catalysts to meet today emissions' standards "show a 95% drop in NOx compared with previous generation...buses.
"In fact, if every older bus operating in the capital were replaced with a Euro 6 version, total NOx emissions in London would fall by 7.5%."
"There has been some good news in the form of some light
buying of platinum
ETFs," said a recent note from Chinese-owned bullion market maker ICBC Standard Bank, pointing to exchange-traded investment trust funds, backed by the metal.
Platinim holdings for exchange-traded trust fund products backed by the metal grew to a 10-month high in March, according to data from specialist analysts Metals Focus.
Looking at the discount to gold, "Valuation arguments may be starting to carry some weight" with larger investors, said ICBC Standard strategist Tom Kendall in late March.
"We believe [platinum group metal]
prices have troughed
," says South African investment bank Investec's analyst Nkateko Mathonsi, "mainly based on our expectation of a recovery in global growth.
"However, we anticipate a slower recovery for platinum in line with slower economic recoveries in the Eurozone and China."