Weaponizing Migration
Wednesday, 10/11/2023 09:01
The strategic manipulation of migrant flows...
SAVVY investors are aware that geopolitical tensions and uncertainty can significantly influence the financial markets, writes Frank Holmes at US Global Investors.
That includes human migration – or, to be more specific, weaponized migration.
Many of you, no doubt, watched Elon Musk's livestream of the historic US-Mexico border crisis last month on X, the platform formerly known as Twitter. You may also be aware of the situation that's unfolding in the Mediterranean, with thousands of refugees from Northern Africa overwhelming Italy, prompting much-needed immigration reform.
Both cases have raised questions about who's behind this global immigration surge.
The tactic of using migrants as pawns is not new. Since at least the 1950s, bad actors have employed this strategy against liberal democracies like the US and Europe, which historically have tended to accept large numbers of refugees, according to Kelly Greenhill, author of the 2016 book Weapons of Mass Migration: Forced Displacement, Coercion and Foreign Policy.
Back to the US-Mexico border. In August, the US Customs and Border Protection (CBP) reported a 36% increase in migrant encounters compared to July, totaling over 180,000 apprehensions. And last month, a staggering 50,000 migrants from crisis-stricken Venezuela illegally crossed the border, marking an all-time monthly record.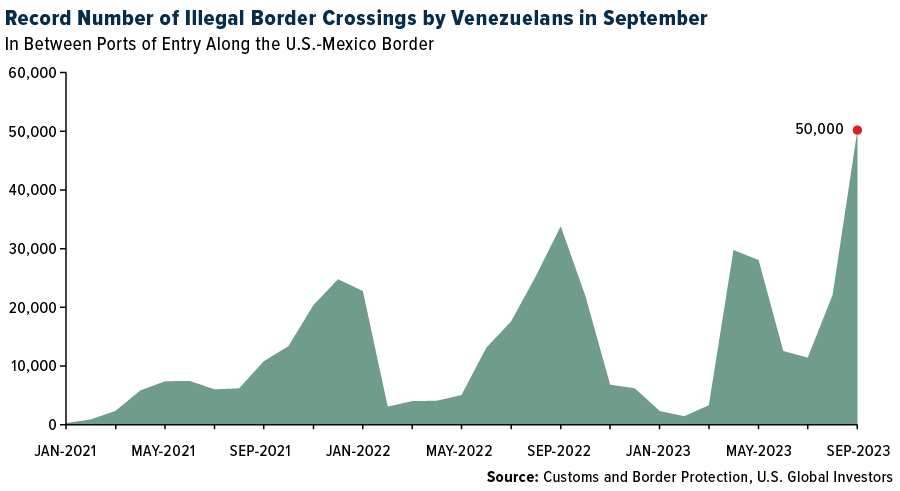 The driving force? Beyond immediate socio-economic and political crises, deeper geopolitical manipulations may be at play.
The Mexican government, for instance, has initiated a program to bus immigrants from the southern part of Mexico toward the USA. Mexican President Andres Manuel Lopez Obrador recently stated that around 10,000 people were reaching the border every day.
Across the Atlantic, Europe – and Southern Europe in particular – faces parallel challenges. Between January and July 2023, the continent saw a significant increase in arrivals of refugees and migrants, totaling over 120,000 individuals, primarily through the Mediterranean and Northwest African maritime routes. This marked a 77% rise compared to the same period the previous year.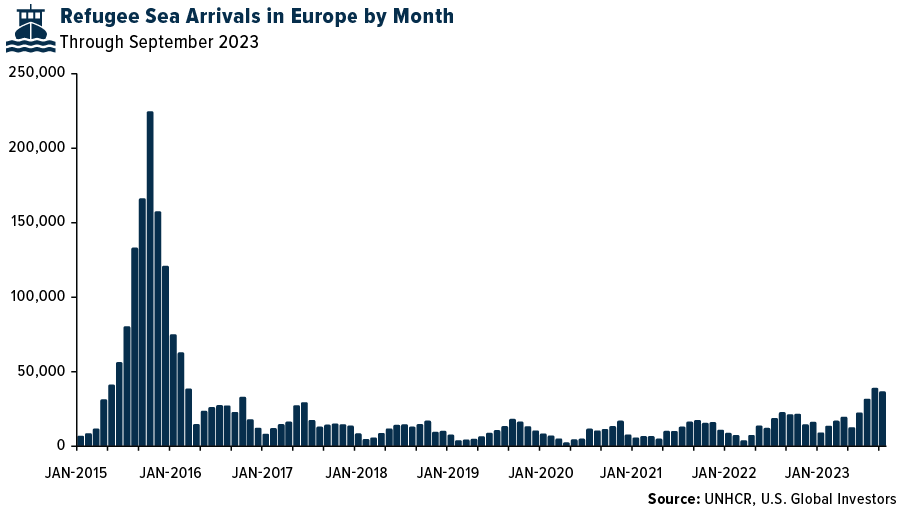 The Italian island of Lampedusa has seen an overwhelming surge in migrant boats. On September 15 alone, some 7,000 people landed on the island, doubling its population and prompting local authorities to declare a state of emergency. This brought the total number of arrivals in Italy to nearly 126,000 in 2023, making it a significant political issue.
As for the boats that migrants used to make the journey from North Africa to Italy, many appear to be expensive, high-end speedboats and other such vessels, clueing some observers in to the possibility that this sort of activity is being engineered to destabilize Western governments.
Some immigration experts suspect that Russia could be behind the current crisis. According to the Heritage Foundation's Daniel Kochis, Moscow has employed and continues to employ the weaponization of migrants to manipulate the situation in places like Syria, North Africa and the Sahel, effectively pushing refugees toward European shores.
Russia isn't the only country to have used this strategy. According to Judge Aaron Petty, an Appellate Immigration Judge at the Board of Immigration Appeals, Belarusian leader Alexander Lukashenko orchestrated a crisis in 2021 by enticing thousands of migrants and asylum seekers – primarily from Iraq, Syria and Afghanistan – to Belarus and then pushing them toward the European Union (EU) border, exploiting EU legislation and UN treaties for asylum seekers.
Judge Petty believes the weaponization of migrants will increase, particularly by states like China and Russia. Such "gray zone" activities, including the manipulation of population flows, are aimed at shaping the strategic environment, destabilizing rivals and achieving objectives through means just short of direct warfare.
Manufacturing an influx of migrants, or even just threatening to do so, has proven effective in the past in leveling the playing field with more powerful adversaries. It has created a bargaining chip and forces the engagement of targeted countries.
Unless policymakers address the underlying dynamics that enable weaponized migration, the use of this tactic is likely to persist and expand, Judge Petty says.
That's precisely what European policymakers are seeking to do. This month, EU diplomats reached a consensus on immigration policy reforms, following the resolution of a dispute between Italy and Germany over non-governmental organizations (NGOs) operating in the Mediterranean.
The aim of these reforms is to enable EU states to respond in a unified manner to significant increases in asylum-seekers. A pivotal element of the agreement proposes the redistribution of migrants from countries with high influxes, like Italy and Greece, to other EU nations. Countries that opt out of hosting asylum-seekers would be obligated to financially compensate those that do.
For investors, this is a sign that Europe is keenly aware of the risks and is looking to mitigate them. A stable Europe means a more predictable investment environment, especially in industries like tourism, real estate and manufacturing.
The bigger question remains: will the US follow suit? The ongoing challenges at the US-Mexico border, combined with weaponized migration's growing prominence as a tool, mean that US policy decisions in the coming months will be crucial.
For investors, this means staying informed, agile and ready to adapt. Government policy is a precursor to change, after all, and it's important to be prepared for sudden policy shifts. It's also wise to diversify investments across sectors and regions, hedging against potential disruptions such as weaponized migration.
As always, I recommend a 10% weighting in gold, with 5% in physical bullion and jewelry, the other 5% in high-quality gold mining mutual funds and ETFs.