What Equilibrium Looks Like in Gold Prices
Wednesday, 9/03/2014 20:20
Looking for stability in gold prices? You've got it. Or had it, at least...
GOLD PRICES rise more often than not in September, writes Adrian Ash at BullionVault.
We're not sure equilibrium pricing can exist for financial insurance. The risks you need to cover, and the lost rewards from over-insuring, are constantly moving.
But if there can be a price where bids and offers balance to some kind of happy stability, then gold in fact found it 12 months ago. Indeed, it's now more likely to turn volatile than not we think.
How come?
This week's "plunge" in gold prices (as headline writers calls it) has shed some $25 per ounce so far. But that leaves the metal well within the $1200-1400 trading range now running since September 2013.
Moreover for long-term investors, last month's average Dollar price...of $1296 per ounce...was almost precisely the average gold price of the previous 12 months ($1297.50).
How's that for equilibrium?
Whether or not this range and stability will hold further, we can't know for sure until the future crashes into the present. But the peak gold price of the last 12 months has been a mere 17% above its low of the same period. And barring the 16% lull of 2012, that makes Sept. 2013 to Sept. 2014 less volatile than any time since 2005.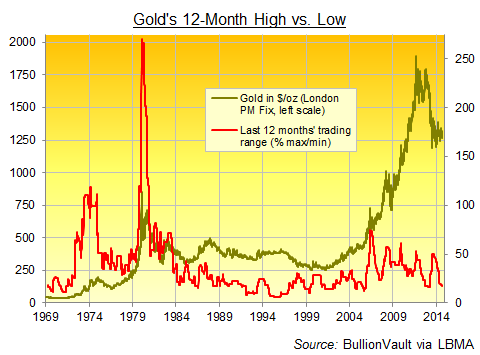 For the record, the simple average of all 12-month ranges in Dollar gold prices since 1968 has been 37% top to bottom.
Peak volatility was a huge 270% gain during 1979. The tightest 1-year range was a mere 6% in 1995. And gold's median range...meaning that half of all 12-month periods since 1968 were more violent, and half were less...has been 27% over the last 46 years.
Looking to the horizon, and after hitting the doldrums for the last 12 months, there's no certainty that gold's volatility will make landfall or crash into the rocks. Besides the relative calm as shown on our chart, only one other point looks plain:
No sustained bull market in gold prices has come with a smaller 12-month trading range in percentage terms.
But if it's price stability you want from your gold, you've already got it – or had it, at least compared to gold's historical path.
Gold's equilibrium may now break, just as analysts start seeking it.