Gold Prices Steady as Dollar Gains, Equities Slip, Crude Oil Sinks to 21-Year Lows Amid Covid Crisis
Monday, 4/20/2020 14:44
GOLD PRICES steadied Monday lunchtime in London as stock markets retreated from last week's gains and US crude oil prices fell to new 21-year lows despite the Trump White House pushing some states to relex Covid Crisis lockdown, writes Atsuko Whitehouse at BullionVault.
The Dollar Index – a measure of the US currency's value versus its major peers – rose as commodities and world stock markets fell, keeping a lid on gold prices for US investors at $1687 per ounce after the metal last week gave back an earlier 3.8% gain to new 7-year highs.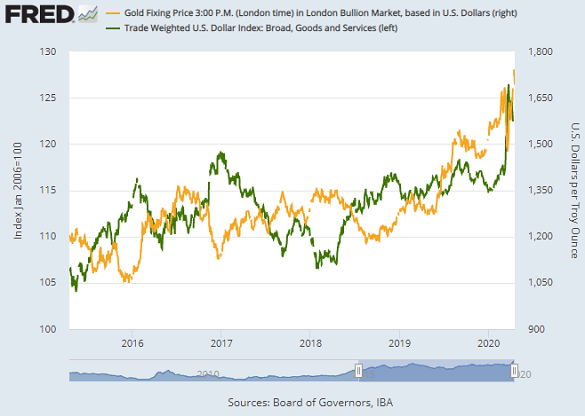 Oil futures fell on Monday, with the front-month May WTI contract for US crude losing one-fifth overnight to drop below $15 per barrel, the lowest since March 1999, amid fears that production cuts from the Saudi-led Opec cartel and its allies including Russia will fail to stop US storage facilities reaching full capacity.
Comex gold futures meantime gained 0.3% to $1703 per ounce, trimming the premium for New York settlement to $16 per ounce over loco-London physical prices after this
decoupling hit a record $100
after the UK went into lockdown last month.
"I would guess that the risk managers are
not allowing these big positions to be run
," said John Reade, chief market strategist at the World Gold Council. "It's moved from a concern about availability and transferability of metal to one of risk appetite."
"The London gold market will need to allow delivery outside of the city if the coronavirus pandemic leads to more stringent travel restrictions," Ruth Crowell, the chief executive of the London Bullion Market Association told Bloomberg in an interview.
"We've started conversations about other key financial centers and having cooperation when it comes to settlements in vaults around the world."
Gold prices on the Shanghai Gold Exchange meantime continued to show a historic discount to London, easing only to $55 on Monday after wholesale bullion in the metal's No.1 consumer market set 3 fresh all-time records last week to reach above $70 per ounce.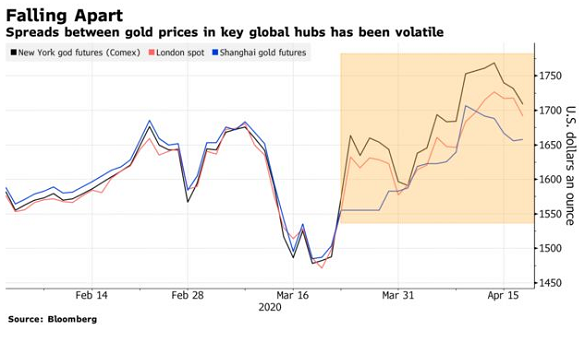 China's central bank today cut its benchmark lending rate for the second time this year, trying to stabilize the world's second-largest economy after the coronavirus pandemic starting in Wuhan saw its GDP contract for the first time since 1992.
US Democrats and Republicans are near agreement on extra money to help small businesses hurt by the coronavirus pandemic and could seal a deal as early as Monday, President Donald Trump said on Sunday.
Meantime in the US
protests flared in 3 states
named by Republican President Trump as imposing excessive stay-at-home orders under their Democrat Party governors.
The number of Covid-19 deaths in the US exceeded 40,000 by Sunday, the highest of any country in the world.
With European nations reporting a slowdown in new infections and deaths, gold prices for Euro investors today rose 0.4% to €1554 per ounce amid fresh talk of joint economic stimulus across the European Union.
UK gold prices also gained, rising 0.7% to £1357 per ounce as employers swamped the government's furlough scheme website, making 67,000 claims in the first 30 minutes.
As for other precious metals, silver rose 0.2% to $15.22 per ounce while platinum held steady at $776 per ounce.