2018 Gold Price 'Could Hit $1450'
Friday, 4/13/2018 17:21
Gold price forecast to rise further as the Dollar declines...
GOLD PRICES are forecast to rise further against the US Dollar in 2018 and could peak at $1450 per ounce according to leading analysts, writes Steffen Grosshauser at BullionVault.
Launching the new Gold Focus 2018 report, precious metal consulting firm Metals Focus last week gave a bullish forecast on gold prices, built on expectations for slower US economic growth, a weaker US Dollar, and worsening volatility in world stock markets.
For the April to June quarter of this year, however, Metals Focus forecasts sideways movement in the gold price, swinging between $1290-1360 per Troy ounce before rising in an upwards range across the rest of 2018.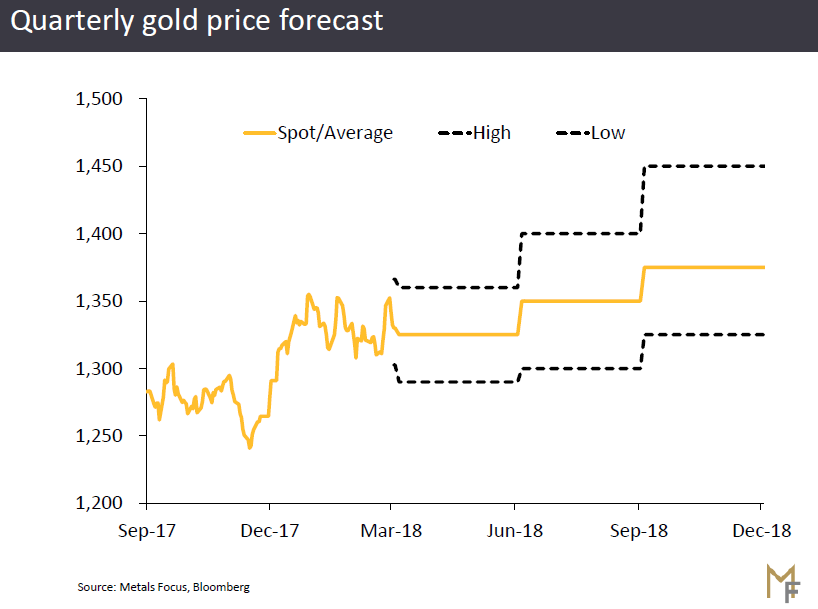 "Although further rate hikes by the Fed are a headwind, they are already largely priced in," said
Metals Focus
director Philip Newman, presenting the consultancy's latest analysis at an event in London last week.
Strong stock markets could also hamper new investment in gold, Metals Focus forecasts, a headwind seen throughout 2017.
But geopolitics could prove bullish, Newman said, while a trade war between the US, China and other states "can no longer be ruled out", potentially damaging economic growth worldwide and spurring demand for gold as a defensive asset.
Competitor analysts Thomson Reuters GFMS earlier this year forecast a 2018 average gold price of $1360, with a peak above $1500 per ounce.
"Our forecast discounts three Fed rate hikes," said GFMS, "although a potential overheating from the effect of [Trump's] new tax reform could lead to more aggressive tightening, limiting gold's upside."
Having underestimated the gold price at the end of March by $50 per ounce as recently as February meantime, Dutch bank ABN Amro is sticking with its year-end forecast of $1250, with a rise to $1400 then predicted over the following 12 months.
"We continue to expect prices to drop below the $1300 per ounce level in the coming weeks," ABN said in early April.
"If speculative long positions [in the futures market] are squeezed, prices could even drop temporarily...into the direction of $1200 [but] we think this is the maximum downside in gold prices this year."
In terms of gold's supply and demand fundamentals, global mining output set a new annual record in 2017 but may now decline says Metals Focus – a forecast backed by other
2018 gold mining analysis
– as the rate of growth has seen a significant slowdown in recent years.
Increased demand for jewelry in 2018, especially in the top two consumer nations of China and India, is likely to come alongside increased investment demand for
gold bars
and bullion coins, Newman added.