Gold Price Surge Spurs Heavy H1 Selling
Friday, 7/26/2019 16:19
Investors from Japan to US and Europe take profit...
GOLD'S big price surge of 2019 so far has spurred heavy net selling by existing investors in both Japan and across Western Europe and North America, writes Atsuko Whitehouse at BullionVault.
Japanese private investors' sales of gold increased 57% over the first half of 2019, while Western investors' selling increased 115%.
Tanaka Kikinzoku, the biggest bullion dealer in Japan reported this month that they saw heavy gold selling from January until June 2019.
The company bought back 15.0 tonnes during the period, 57% more than the period last year and the highest level since 2013.
Purchase prices – which include consumption tax, rebated to investors uniquely in Japan – rose above ¥5,200 per gram at the end of June as international Dollar gold prices hit a 6-year high above $1400.
Those Yen prices were the highest since January 2015, and encouraged private investors to take profits,
according to Tanaka
.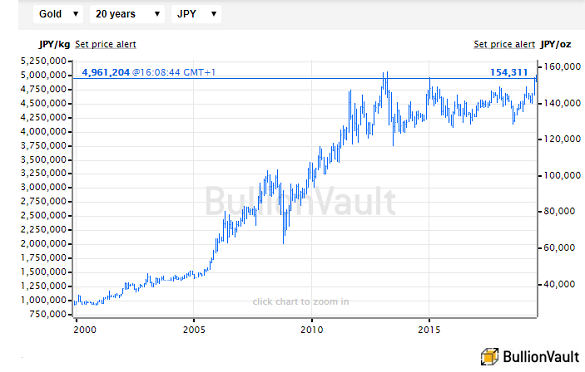 Western private investors using the largest bullion market online also sold gold at an unprecedented pace during the first half of the year, locking in profits.
While demand was up 75% during the first half of this year, BullionVault user selling jumped by 115%, sparking heavier net liquidation than during the
spring 2013 gold price crash
.
As a result, total client gold holdings – securely stored in each user's choice of London, New York, Singapore, Toronto or (most popular) Zurich –
shrank to 38.0 tonnes
from 39.0 tonnes in January.
Gold prices jumped 9.9% in US Dollar terms in H1 2019, rising 10.5% in Euros and 10.2% in British Pounds over the period.
In June gold broke 6-year highs at $1452 per ounce, and also set 6.5-year highs in Euros at €1281 and nearly 8-year highs in GBP at £1140 per ounce.
"Breaking 6-year price highs in June, gold has also broken the dam on investor holdings, unleashing a wave of profit taking," said Adrian Ash, director of research at BullionVault.com's offices in Hammersmith, London.
"With prices moving so high so quickly, it's sensible that investors already using gold to spread their risk now think about rebalancing their portfolio."
In the meantime, gold backed ETFs and similar products
rose sharply in June
by 127 tonnes to 2,548 tonnes, equivalent to $5.5 billion in inflows, according to the latest data by World Gold Council (WGC).
Global gold-backed ETFs grew 4.3% (+107 tonnes) during the first half of 2019, despite heavy outflows in February, April and early May. European funds represented 78% of global year to date inflows, growing 7.3% in 2019, while Asian funds reduced 11.4% as a result of profit taking and a shift to riskier assets in the region.
First-half inflows were 30% lower year on year however, given the high level of inflows (+161 tonnes) over the first six months of 2018.
"Despite stock markets trading at or near record levels," says the WGC analysis – "the strongest first-half performance in 20 years – fixed income markets still expect two or three US rate cuts in 2019, as economic data worsens.
"With rates falling, global negative-yielding debt is at all-time highs above $13 trillion, and the price of gold has moved in tandem with those amounts over the past few years."
Also in contrast to physical bullion investment among private individuals, hedge funds and other leveraged speculators in Comex gold futures and options increased their bullish betting during the first half of this year, according to the data published by US regulator the Commodities Futures Trading Commission (CFTC).
Total open positions raced to a series of
new all-time record highs
as overall the net long positions of Managed Money traders rose 216% to a notional total equivalent to 714 tonnes at the end of June. That was the largest since September last year, when the price traded at $1309 per ounce.