Price Premium Returns for Diwali But India's Gold Industry Struggling
Tuesday, 10/25/2016 10:51
'Share of wallet' falling but weak Indian gold price shows smuggling boom...
GOLD PRICES in India, the world's largest private holder of the metal, have finally returned to a small premium above global quotes, but the subcontinent's bullion and jewelry industry continues to struggle with over supply and weak demand.
India has zero domestic mine output, but exports of bullion are banned. So there was no outlet for a glut of metal built as 2016 began with the
introduction of new tax rules
directly affecting the gold industry, leading domestic prices in the world's No.2 annual consumer – now behind China – to trade below global quotes almost all year, a reverse of the more typical premium which incentivizes new imports.
Discounts ran to record levels according to media reports, down as
deep as $100 per ounce beneath
international quotes in July, when global gold prices peaked at $1375 after the UK's Brexit referendum to quit the European Union.
Ahead of the key Diwali festival and then Hindu wedding season, India's domestic gold prices have now recovered over recent weeks to a small premium. But demand remains soft according to local traders, with dealers in traditional bazaars such as Indore's Sarafa Market also blaming
changing shopping habits
and chain-store competition for weak sales.
India's gold demand is claiming a "declining share of wallet" said Sunil Kashyap, managing director of global banking and markets at bullion market-maker Scotiabank, and chairman of the Singapore Bullion Market Association, at last week's London Bullion Market Association conference in Singapore.
"Gold has become less and less relevant," he concluded, but while its "share of wallet is reduced, that wallet has grown, so demand overall is constant."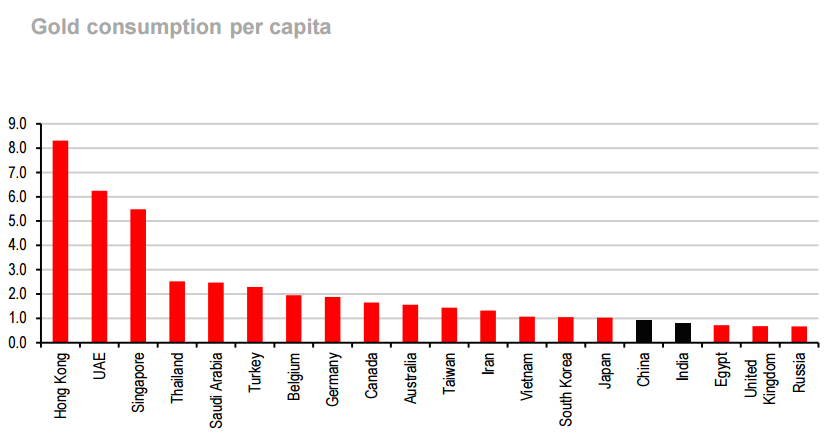 "India and China are the world's two largest gold consumers," noted Paul Voller, US head of precious metals at global investment and bullion bank HSBC, also speaking at the LBMA 2016 conference.
"However, gold consumption per capita is still relatively small, with plenty of room for expansion.
"Economic growth and rising wages are the driving forces behind our expectation for India's gold demand to rise in the long term."
For Diwali 2016 meantime, artisan jewelers across the country are
offering up to 50% discounts
on their remaking charges, says the
Economic Times
, slashing their margins to transform older items into new pieces.
"The organised sector dominated by the likes of Titan Company, through its jewellery business Tanishq, and PC Jewellers, expects a healthy volume growth during the festive season."
The government has also launched its fifth tranche of Sovereign Gold Bonds at a deliberate discount to physical gold prices, NDTV reports, offering buyers an instant 1.7% gain "in a bid to make SGB more attractive" but also
cutting the interest rate
they pay, on top of matching movements in gold prices, from 2.75% to 2.50%.
Buyers are then
locked in for 5 years
, with the bonds – specifially aimed at replacing some physical gold demand with a wholly financial product – expiring 3 years after that.
"Sovereign Gold Bonds are
still in their infancy
," said Rajesh Khosla, managing director of India's government-backed refinery MMTC-PAMP, chairing the LBMA 2016 conference's India panel.
Offered in November, January and April, the first 3 tranches of these new products matched less than 4% of legal bullion imports in those periods, Khosla said.
"Gold-backed financial products represent only 0.2% of the value of India's stock of gold," he added, repeating the common estimate that household and temple stockpiles now amount to some 25,000 tonnes – perhaps one ounce in every 7 ever mined in history.
"We've still haven't validated whether people want to turn gold into a banking or financial asset," agreed Scotiabank's Kashyap, also noting that India's gold bullion imports have remained relatively constant over the last 20 years but the country's GDP has more than tripled.
India's gold refining plants have
begun operations again
on this month's recovery in Indian gold prices, the
Business Standard
reports, reviving import demand after 2016's collapse in legal inflows.
"Refineries situated in excise-free zones like in Uttaranchal were operative since September because they enjoy 1% extra tax benefit," says the paper. "From October refineries in other areas also became operative as discount has ended and prices were quoted at a marginal premium."
India's import duty on refined gold bullion and semi-pure doré bars raised around $3.3bn for government in 2015.
Customs officials have reported a surge in smuggled gold seizures since the current rate of 10% duty on refined bullion was introduced, alongside a raft of other measures aimed at reducing India's import bill for gold, in 2013.