Gold Price Hits New Euro and UK Records as Virus Crisis Erases Last of USA's Post-GFC Jobs Recovery
Thursday, 4/23/2020 14:12
GOLD PRICES set new all-time highs for Euro and British Pound investors on Thursday morning, reaching fresh 7-year highs in US Dollar terms as worsening economic data amid the global Virus Crisis' shutdowns saw world stock markets struggle to extend their rally.
With gold hitting $1720 per Troy ounce as New York trading began, latest jobless benefit claims data today said another 4 million US citizens filed for unemployment last week, taking the total since the Virus Crisis hit North America a month ago to more than 26m so far and erasing the entire recovery from the global financial crisis of 2007-2011.
"Though China's GDP shrank 6.8% in the first quarter," claims Beijing's state news agency Xinhua, "[the] unemployment rate, resident income and electricity consumption indicate a robust Chinese economy...
bent, not broken
."
Experts doubt those official figures however, the Financial Times reports, with economist Zhuang Bo at research agency T.S.Lombard saying the real jobless count in the world's most populous nation (and No.2 economy) "could be more than double the official number" of 23 million.
"Job positions
may fall another 10-15%
without policy intervention," adds Professor Lu Hai at Peking University's Guanghua School of Management.
With Germany the largest economy in world No.2 economic bloc the Eurozone, IHS Markit's flash survey results for its output in April meantime showed another record collapse today, following March's plunge to 35 from 50 – which already signalled zero growth a month earlier – down to just 17.
Euro gold prices today rose above €1600 per ounce, setting fresh all-time highs while the 19-nation currency union's equity markets held little changed.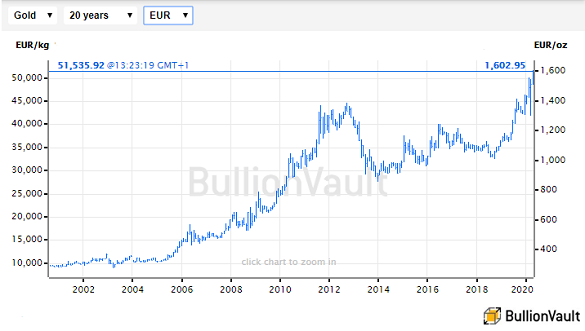 "Many small firms have told the BBC they require quick access to cash in order to survive," says the state broadcaster.
But shares in UK housebuilder Taylor Wimpey however jumped over 11.4% – now rallying by one-half from early April's 6.5-year low – after it said "remobilisation" will begin on 4 May, with the majority of its mothballed projects reopening across England and Wales but keeping "compliance with strict social distancing requirements."
The
UK gold price in Pounds per ounce today
broke above £1400 for the first time in history, rising more than 22.1% from New Year's Eve and outpacing the gain for US Dollar or Euro investors, up 18.3% and 13.8% respectively.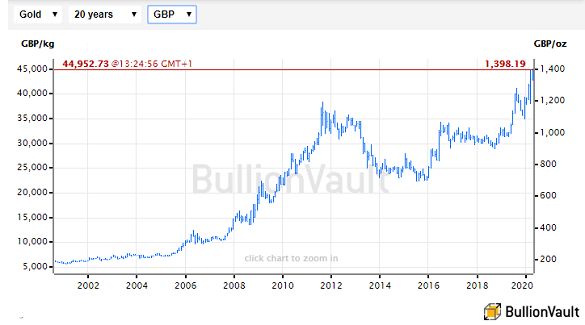 With UK government borrowing already rising by nearly one-quarter in the 12 months to end-March from the year before, Whitehall's 2020/21 deficit is
likely to hit a "colossal" £260bn
(US$320bn) according to one think-tank – some 12.4% of last year's total economic output.