Gold Mining Output to Hit New Record in 2023
Thursday, 6/15/2023 11:44
No.1 China to 'resume decline' as sanctions hurt No.2 Russia...
GOLD MINING output worldwide will grow to a new all-time record in 2023, say leading analysts.
Now the consultancy's new Gold Focus 2023 report forecasts that will grow by 2% this year to a fresh high above 3,650 tonnes, with expanded output from all regions except Asia.
"Global gold mining production was faced with several sources of disruption in 2022," said Metals Focus' director of mine supply Adam Webb at last week's London launch of the report.
No.2 producer Russia was hit by international
sanctions over the Kremlin's invasion of Ukraine
, while strike action and power outages hit former No.1 South Africa – now out of the Top 10 producer nations after mining less than 100 tonnes for the first time since the early 1900s – and No.7 gold mining nation Peru suffered social unrest over
the arrest and ousting
of socialist president Pedro Castillo.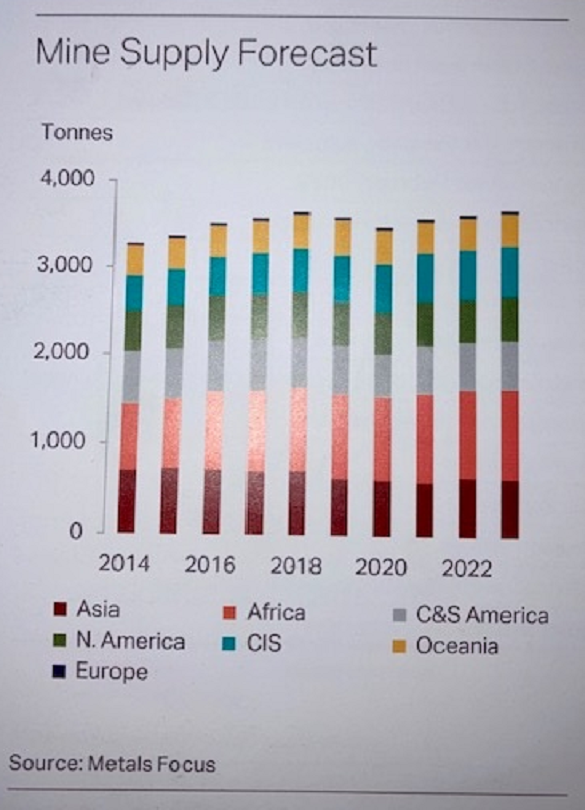 With gold output from No.3 mining nation Australia recovering 2% last year from 2021's four-year low on
Metals Focus' data
, production slipped 8% in the first 3 months of 2023 from the final quarter of last year said analysts
Surbiton Associates
in May – "delayed" rather than "lost" thanks to heavy rains in the western states and a new record-high bullion price in Aussie Dollars encouraging producers to mine lower-grade ore.
Those Western sanctions against Russia are meantime expected to start denting its mine output more sharply this year as new equipment and replacement parts start to become scarce.
Russia's output slipped only 2% in 2022, while the global industry's wider challenges were offset by a 13% rebound in output from No.1 gold producer China, thanks to mines in the eastern province of Shandong – where underground reserves at the Xiling gold mine were
raised last month by 200 tonnes
, equal to around 1/5th of 2022's total global addition – returned to full capacity last January after shutting 12 months earlier following two fatal accidents.
However, China's world-leading output will "now return to its long-term decline" says Webb, driven by tightening environmental standards, while Asia's total mining supply has already been further hampered for 2023 by flooding, lower ore grades and the end of underground production being ramped-up at the world's largest mine, Grasberg in Indonesia.
Gold supply from artisanal small-scale mining worldwide is meanwhile likely to stay little changed, Metals Focus estimates, accounting for around 21% of total global output. That's dramatically above the
15% estimated for ASM gold
for 2018 by deep revisions to its data first made 4 years ago to include this sector.
Production from these informal, mostly illegal and often highly dangerous sites grew in 2022 most notably in Bolivia but was offset by lower activity in Brazil and Venezuela. Metals Focus says this year's ASM figures may now be dented by the civil war in Sudan, Africa's 5th largest gold mining country, where output already fell 6% last year from 2021's near record.
Costs in the formal, large-scale mining industry are likely to rise further from 2022's new record-high on the all-in sustaining measure (AISC). But "the rate of increase will slow significantly," Metals Focus expects, now that energy prices have reversed the Russia-Ukraine spike, meaning that the "vast majority" of producers will remain profitable as bullion-market prices rise 5% on the consultancy's annual average forecast to a new all-time record of $1890 per Troy ounce.
"Margins were very strong in 2020 to 2022," says Metals Focus, encouraging total capital expenditure to reach the highest last year since the gold price crash of 2013 marked the end of the precious metal's global financial crisis bull run.
But the value of gold-mining mergers and acquisitions more than halved in 2022 from 2021 according to analysts at S&P Global,
dropping below the combined total
across the rest of the non-ferrous mining industry for the first time in 5 years at less than $10 billion.
Corporate activity in copper mining leapt in contrast, doubling to more than $14bn on S&P's data thanks to "increased interest in the red metal due to its central role in the green energy transition and concern over dwindling reserves and supply."
World No.1 listed gold miner Newmont (NYSE: NEM) last month
sealed its takeover
of Australia's Newcrest (ASX: NCM) – the world's 8th largest mining company – for US$19bn, a new M&A record for the sector.
NEM's stock is currently trading at half the record price reached as gold prices spiked in spring 2022 following Russia's invasion of Ukraine.
On Metals Focus' maths, the takeover puts Newmont on track to produce twice as much gold in 2023 as the former No.1 among listed gold-miner stocks, Barrick (NYSE: GOLD).