Gold Price $2000 'Driven by OTC Inflows' Not ETFs or Comex Specs
Tuesday, 4/18/2023 14:28
GOLD PRICES rallied from their deepest dip below $2000 in 2 weeks on Tuesday, defying weak gold ETF trust fund flows as global stock markets rose on better-than-expected GDP data from China.
Gold prices in Shanghai today slipped for a 2nd session in Yuan terms, but extended their premium over global quotes for London settlement towards $7.75 per ounce, the highest in a week and back in line with the typical incentive for new imports of bullion into gold's No.1 consumer nation.
Monday's drop in Dollar gold prices to $1981 per ounce saw giant gold ETF the SPDR Gold Trust (NYSEArca: GLD) shrink by 0.2%, reaching its smallest size since in 3 weeks.
Smaller competitor the iShares product (NYSEArca: IAU) expanded, in contrast, as did the 3rd and 4th largest North America-listed ETF gold-price trackers the Sprott Physical Gold Trust (NYSEArca: PHYS) and the SPDR Minishares product (NYSEArca: GLDM).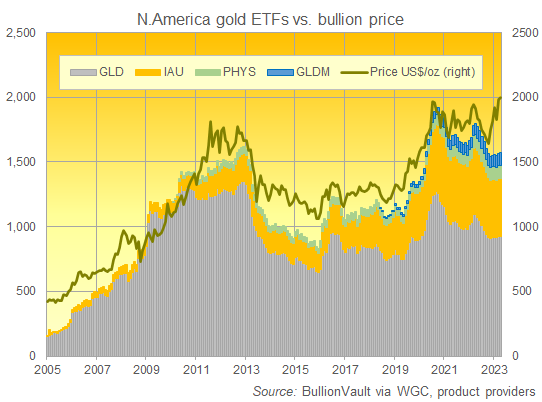 "Given what gold has achieved in 2023 in the face of much larger macro headwinds and
the lack of a frenzied bid [from Comex speculators]
," says strategist Nicky Shiels at Swiss bullion refining and finance group MKS Pamp, "[our] suspicion [is] that physical demand...stemming from both retail and central banks as well as 'unknown' flows...is the key differentiator now" versus gold's 3 previous pops above $2000 per ounce.
On Shiels' analysis of the available data, gold inflows from central banks and investment funds "should" have driven gold prices up 4.4% year-to-date. So gold's 10% rise since New Year offers "substantiation" that large-bar demand in the wholesale over-the-counter (OTC) market "is driving price action".
In contrast to untracked OTC investment demand, the GLD gold ETF (which costs 0.40% in annual management fees) has shrunk by 2.0 tonnes so far in April, while the IAU (0.25%) has expanded by 6.2 tonnes, with Sprott (0.35%) growing 0.7 tonnes and the Minishares product (0.10%) up by 2.1 tonnes.
Since their respective all-time peaks, the GLD has now shrunk by 31.5% and the IAU by 15.7% while PHYS and the GLDM have expanded to lifetime records.
With spot gold bullion prices dipping back to $1999 early Tuesday afternoon in London,
silver prices
also held lower for the week so far following the past month's steep gains, trading just 10 cents above $25, down by $1 per ounce from Friday morning's fresh 12-month high.