Gold Selling Jumps on Brexit Gold Price Surge
Thursday, 7/07/2016 17:52
Brexit surge 'will be short lived' due to prior Cash4Gold boom...
GOLD SELLING by private households has increased both in the UK and beyond on the metal's price jump following the UK Brexit referendum, writes Katie Hillan at BullionVault.

According to BullionVault data, quoted by Reuters and the Wall Street Journal, private investors were overall net sellers following the Brexit result as prices rose to 2 and 3 year highs against all major currencies.

"Our users bought a lot of gold going into this crisis, and some are selling to bank substantial profits from [Brexit] Friday's shock," says Paul Tustain, CEO of BullionVault.

"These are people that are short-term investors who bought earlier in the year." agrees Paul Atkinson, the owner of Atkinsons Bullion in Birmingham.

"It's profit-taking."

The aftermath of the shock Brexit result – which saw a slim majority of UK voters opt to leave the European Union – sent gold prices to 3-year highs against the Pound.

Gold priced in dollars has also risen, hitting 2 year highs. In the US this has seen consumers rushing to sell their gold.

"We received non-stop phone calls of people trying to sell their gold, their bullion, their jewellery" says Edward Kay, president of Buyers of New York.

Even before the Brexit result, UK gold prices had risen sharply, says the latest Precious Metals Weekly from Metals Focus one of the world's leading precious metals consultancies, from £720 per ounce in January to £900 before the referendum.

"There was little sign [however] of a jump in gold scrap supply," says the report.

"Furthermore, we believe the surge in recycling seen [since Brexit] may prove to be short-lived."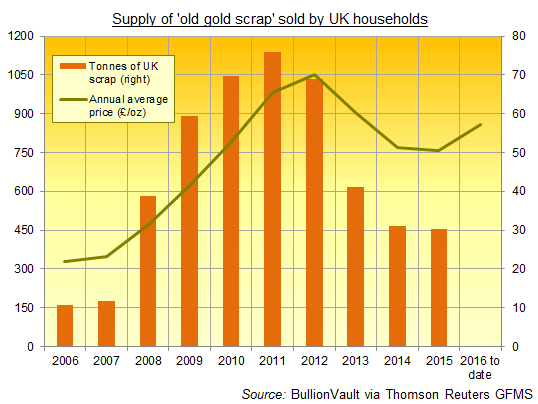 Data from specialist analysts Thomson Reuters GFMS show that over the 5 years leading up to 2011 the increasing gold price led to more UK consumers selling their gold jewellery.
The global "cash-for-gold" phenomenon also boosted scrap flows in the UK, led by US based Cash4Gold.
Following the peak in 2011 gold scrapping volumes have decreased, matching the trend in gold prices, but also because the previous boom had already elicited much of the available household stock of unwanted or broken pieces.

"The scrap collection industry," according to Precious Metals Weekly, "became higher profile in terms of advertising campaigns and more widespread as retail jewellers increasingly competed with pawnbrokers to buy back unwanted jewellery."

"Several earlier years of high levels of recycling have led to the depletion of near-market UK jewellery stocks, held by consumers," concludes Metals Focus.