The global liquidity pyramid
Friday, 1/05/2007 16:44
What's stopping the US Dollar from doing what it must – and collapsing...?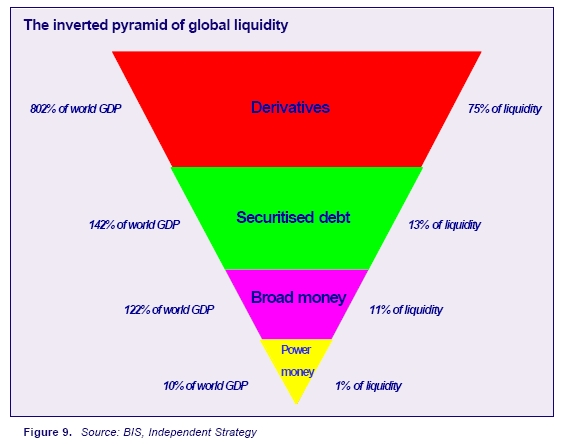 "Global demand for the Dollar is now driven by the explosion in Dollar-denominated assets," writes Dan Denning from Melbourne, "almost completely out of the control of central banks."
Dan says these "assets" are the preferred retirement vehicles for millions of Western Baby Boomers...and the quickest way for money shufflers in London, Washington, Sydney and elsewhere to get rich on the flow of cash. They outweigh government-issued money – referred to as 'power money' by Independent Strategy in the chart above – by a factor of 85 times.
"Only a radical increase in official interest rates or a radical decline in Dollar confidence will change the incentives to create new assets denominated in Dollars," says Denning.
Will either event happen in 2007? Or will gold have much further to rise before the scramble for settlement hits...and $340 trillion in derivatives – plus $59 trillion in bonds – tries to turn itself into $4 trillion of government-issued money?