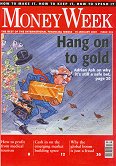 LONDON, Jan. 19 2007 -- BullionVault – the fastest-growing online gold investment service in the world – has today made the front-cover of MoneyWeek magazine, the award-winning investment weekly for private investors in the United Kingdom.
Across three pages in today's edition, Adrian Ash – head of research at BullionVault – details the outlook for gold prices in 2007.
"Gold suddenly seems a very popular investment," says Ash. "It's attracting too much hot money to be safe according to some pundits.
"But demand from India is set to grow further, gold mining supplies actually fell in 2006, and the real reason private investors should consider buying and holding gold is the bubble in complex debt and derivative deals on Wall Street."
BullionVault now stores more than two tonnes of fine gold in Zurich, New York and London on behalf of its clients in 62 countries worldwide. MoneyWeek has been called "the new Economist" magazine and boasts a weekly circulation of more than 29,000 (latest ABC audit).
For BullionVault's latest research in full, go to: Gold in 2007
Notes:
BullionVault (www.bullionvault.com) lets private customers buy gold in the "Good Delivery Bar" form accepted by professional bullion markets -- whatever the preferred size of their purchase. This eliminates the loss of integrity and value associated with buying small gold bars for private custody.
BullionVault arranges all storage in formally recognised bullion vaults, in London, New York, and Zurich. It saves the customer significant dealing and holding costs through reduced trading spreads, the elimination of fabrication and delivery charges, and the world's lowest storage and insurance charges.
More information: http://www.bullionvault.com

Contact:

    Paul Tustain, Director
    info AT BullionVault.com
    +44 (0)208 6000 130

---
Buy gold online today at live spot gold prices