BullionVault Weekly Update
Monday, 4 January 2021
In the markets this morning...
For up-to-the-minute live spot gold and silver prices use the BullionVault chart
2021: Year of the Catfish
from Adrian Ash
Director of Research, BullionVault
AT the PEAK of the financial bubble and crash, back when Lehman Brothers failed in September 2008, the UK private sector owed £800 billion more than it had in the bank.
Then worth some $1.4 trillion, that was the gap between how much UK banks had lent to UK residents...households and business...and how much those residents had in bank savings.
It was quite the sum. Half of the UK's annual economic output in fact.
Fast forward to the eve of 2021 however, and now the UK private sector had a positive bank balance of £159bn...
...equal to some $211bn...
...and the largest net savings for the private sector since spring 1979 in terms of GDP...
...equal to 7.5% of the UK's economic output.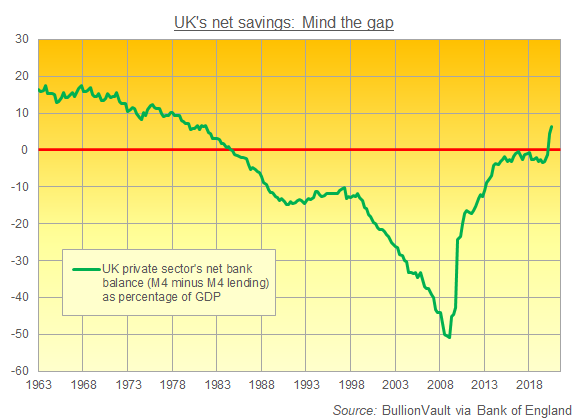 Yes, the Covid Catastrophe drove this surge into a net positive bank balance.
That's because those of us still in work suddenly saw outgoings collapse.
No commute for me, for instance, nor a shop-made sandwich for lunch. No holidays, dining out, or even a swift pint either. What fun!
Any people being paid not to work also enjoyed a little net savings boom too. But this trend to pay down debt...like so many trends accelerated and thrown into the spotlight by the pandemic...was already underway, as you can see in our chart.
Overall the UK private sector has been a net saver pretty much non-stop across the last decade.
Averages lie, of course, and so do aggregates.
Net-net doesn't exist in reality. My savings aren't yours and your debts aren't mine. Really they aren't.
Well, not until we both accept that...through the magic of the nation state and its sovereign debts...we really are all in this together.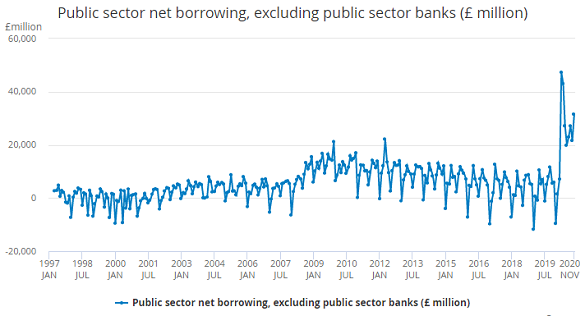 "Governments should take on the primary role of stabilising the economy in the recovery with independent central banks relegated to a supporting role."
So says Laurence Boone, chief economist at global think-tank the OECD.
Her comments come after Covid-19 spurred the heaviest government borrowing in peace time ever.
This catastrophe also spurred record new levels of quantitative easing...
...which in effect is a loan from the central bank to the government, albeit a loan that won't get paid back. Because almost all of that new money, created by QE, goes on buying government bonds.
Central banks, in other words, are very much "supporting" government already. What Ms.Boone wants is for government to do more on top.
"Countries should ditch short-term numeric targets for public deficits and debt," she says, urging governments to avoid the "austerity" seen after the global financial crisis.
"Instead, embrace long term sustainability goals."
More wind farms and solar panels in other words (good for silver demand)...plus maybe hydrogen energy too (great for platinum)...
...all funded by more borrowing, more spending, more QE.
Expect to hear much more of this in 2021. Governments everywhere are borrowing and spending like never before. Politicians are meantime scared of austerity, because...thanks to the human and health catastrophe of Covid...they fear voters won't put up with it again.
Green energy offers a great way to justify historic debt and spending plans. But done from the heart or not, all this "sustainability" will really want in 2021 is to revive the economy...get people back to work (soon as they've had a jab or perhaps two)...and get them back spending money in the shops, airports, cafes and bars too.
Baubles like 5G...custom made to let you watch kittens playing on YouTube with no interruption...also offer a route to big spending with a big vote-friendly smile.
Can't the private sector do some of the spending as well? What could urge private savers and business to share out their Covid savings gluts a little faster?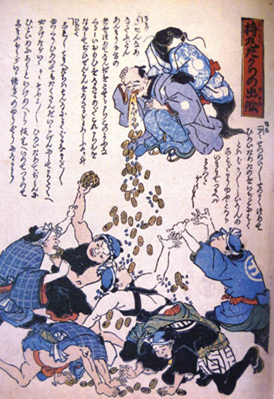 "Don't be greedy!" one of the labourers urges his mates in this popular 1855 print from Japan, Mr.Moneybags launches forth his ship of treasure.
"You'll regret it if you save this money and an earthquake comes.
"Better go and spend it at the brothels and keep it circulating."
We first wrote about Mr.Moneybags...and the giant catfish which Japanese legend used to say caused earthquakes out at sea...back in 2011, after the horrific tsunami which smashed the Fukushima nuclear plant.
You see, that catfish...a monster causing death and destruction unless the god of the Kashimi Shrine kept his foot on top of the beast...became a hero to Edo Japan's lower-income labourers.
Think of it as a divine take on French 19th century think Frédéric Bastiat's 'Parable of the Broken Window'. Smashing things is good for society (or so society says) because it gives the glazier work, and he then spends that money in turn. Earthquakes are great for production, because they force cash out of locked chests into the pockets of carpenters, plasterers, bricklayers and masons...just the right type to keep it circulating again.
In print after print from the 1850...after the Great Ansei Earthquake killed 7,000 people at a stroke, and many more in the fires and starvation which followed...catfish shake or squeeze wealthy old hoarders who vomit or excrete gold coins, quickly scooped up by dancing laborers eager to spend it on booze, noodles and trips to what's now known as Soap Land today.
The earthquake of Covid, in contrast, has worked the other way. Instead of smashing windows...and forcing older savers to spit out their money for repairs...the pandemic lockdowns have only added to the world's middle and upper-income cash hoards.
Yes, a few of us have ventured online to spend! Spend! SPEND! like never before. Witness the surge in Amazon's sales, plus the retail sales data (updates below as usual).
But how to squeeze us all a bit tighter and shake out more of our coins?
You may not feel much like a Mr.Moneybags yourself. But again, the average and the aggregate have no care for the individual...and wherever the line between "enough" and "excessive savings" gets drawn, some people are already being punished for keeping cash in the bank.
The European Central Bank has since 2014 imposed negative interest rates on the commercial banks it works with. The policy actively aims to "encourage" you to get out there and spend if not invest instead of hoarding cash on deposit.
So again, any new attack on cash savers...whether through fresh negative rates in the US or UK, or through the much older, time-tested trick of destroying the value of your savings through inflation...will only be part of a long-running trend, rather than a wholly new outcome of Covid.
Where Chinese horoscopes say 2021 will be the year of the Ox, anyone trying to hang onto or build their personal savings might beware it doesn't become the Year of the Catfish instead.
And beyond 2021, the fact that...through your government's borrowing and spending decisions...we really are all in this together simply means that savers and "hoarders" will end up paying the interest, if not the capital, in due course.
Happy new year by the way. It's a low bar I know, but here's to a better 12 months ahead for us all.
Adrian Ash
Director of Research, BullionVault
Key data and market events, times in Greenwich Mean Time (CET-1, EST+5):
New Zealand Q3 GDP +0.3% from a year earlier, defying analyst forecasts. Business confidence and outlook suddenly positive for New Year (ANZ survey)...

Australia jobless rate fell to 6.8% in Nov, imports jumped with retail sales, private-sector borrowing slower than analysts expected...

Japan industrial output down only 3.4% per year in Nov, jobless rate fell back to 2.9% but imports and exports both sank as 'core' deflation accelerated to 0.9% for consumers (and stayed there for Tokyo consumers in Dec)...

China industrial output and retail sales both accelerated in Nov, services sector still booming in Dec. but manufacturing rebound slowed (NBS PMI surveys)...

India government deficit yawns wider, infrastructure output shrinks faster, private-sector debt growth ticks higher from 3-year lows...

Eurozone industrial slump was smallest since Feb. in November, consumers least miserable since March but Germany business leaders expecting worse ahead (Ifo survey) as factory-gate prices continue to fall faster than consumer prices, import prices drop 3.8% from 12 months before...

United Kingdom economy was 8.6% smaller in Q3 2020 than Q3 '19 (bigger than India again but Eurozone shrank 4.3%, USA 1.7%) with business investment down by 1/5th but hey! House prices rose 7.3% in 2020 (Nationwide) and , government deficit rose 6-fold across the year as retail sales (ex-fuel) showed 5.6% annual jump for Nov. with 'core' inflation slowing to 1.1%...

United States personal incomes and spending both fell in Nov. but USA set new record trade deficit as Trump's tariffs added perceived value for some imports. Latest weekly jobless benefit claims came in lower than expected, consumer sentiment slipped in Dec. (Michigan) but crude-oil stockpile data suggest lots of Christmas travel to see friends and family...

Canada new building permits continue surging to try filling Covid shutdown gap as new house prices rise 4.6% per year, retail sales edge higher, consumer-price inflation rallies to 1.0% per year...

Central-bank watch Azerbaijan won the monetary war too after Nagorno-Karabakh treaty, cuts rates 25 basis points to 6.25% while Armenia hikes 100-bps as inflation rises, government deficit jumps. Turkey's Lira meantime rallied further from new record lows after CBRT hiked again, up 200 basis points to 17.0% after US Fed sat on its hands but vowed zero rates until 2024 or beyond...

Central banks this week Israel expected to sit tight at 0.1% today, Romania also at record low already (of 1.5%) ahead of Friday's decision...

So far Monday Global manufacturing rebound continued in Eurozone in December (Markit PMI surveys), accelerates in UK but growth slows in China (Caixin), flat-lines in Japan (Jibun); new record-high UK house prices fuelled by 2007 banking bubble levels of mortgage approvals, but households (net-net) continue paying down debt...

Later today Opec oil cartel meets (via Zoom no doubt) to argue about output and prices; US and Canada manufacturing activity (Markit PMIs) plus US construction spending from Nov...

Tuesday Eurozone bank lending, Germany jobless rate; US factory activity, prices, jobs + orders (ISM) plus vehicle sales...

Wednesday Japan kicks off final service-sector surveys from Dec (Jibun PMI); Epiphany shuts Italy, Spain; Germany + France inflation; US jobs data from Dec (ADP) plus factory orders from Nov...

Thursday Australia trade data + building permits; Japan labour earnings; Germany factory orders, Eurozone inflation, retail sales, business + consumer confidence; US trade deficit, weekly jobless benefit claims + services sector activity (ISM); Canada business activity (Ivey PMI)...

Friday Japan household spending; Germany + France trade data; Eurozone jobless rate; UK house prices (Halifax); US non-farm payrolls jobs growth (official BLS estimate) + consumer borrowing; Canada jobs data...
PLEASE NOTE: This email is published to inform your thinking, not lead it. Only you can decide the best place for your money, and any decision you make will put your money at risk. Information or data included here may have already been overtaken by events - and must be verified elsewhere - should you choose to act on it.