BullionVault Weekly Update
Big thanks to the hot money as gold jumps, gold demand doesn't...
Monday, 15 November 2021
In the markets today...
For up-to-the-minute live spot gold and silver prices use the BullionVault chart
If You Can't Beat 'Em...
from Adrian Ash
Director of Research, BullionVault

In LAST WEEK's Update we looked at how the different pieces of global gold demand do or don't impact prices.
Long story short?
Investing (and speculation) counts, consumers (and central banks) not so much.
Then on Wednesday, a shock rise in US inflation data saw gold prices leap.
Gold rose over 2% inside 2 hours, hitting New Year and 12-month highs for UK and Euro investors...
...and it broke through the late-summer peaks in US Dollar terms, while also snapping the downtrend starting back at gold's current record highs above $2000 from summer 2020.
A technical analyst would call this "constructive" to say the least.
Question is, was last week's jump solely that? Just a "technical move" on the price charts?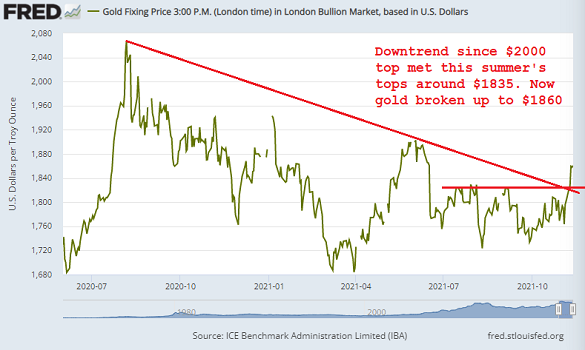 Put another way, and picking up from last week's Update, who drove that jump to $1860 and beyond?
Certainly not Chinese investors or jewellery manufacturers buying physical metal.
Yes, prices on the Shanghai Gold Exchange have jumped to 5-month highs in Chinese Yuan.
But those prices have failed to rise as fast as quotes for settlement in London, heart of the global gold market.
That cut the premium for bullion landed in China from $5 per ounce a week earlier to $2.20 on average from Monday to Friday.
Typically the premium averages nearer $8 per ounce...
...and Shanghai in fact showed a small discount to London today, its first since mid-July.
That suggests gold demand in the metal's No.1 consumer nation is retreating in the face of bullion's strong price rise. Because the premium (or discount) to London represents the incentive paid (or immediate loss locked in) for new imports into China.
Also note that the simple "Shanghai premium/discount" doesn't account for any allocation, shipping or handling fees. Those costs run as high as perhaps $1 per ounce or more in total.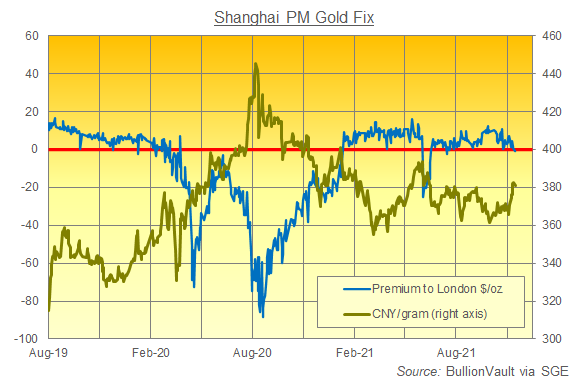 Last week's big buyers were unlikely to have been coin collectors or small-bar hoarders, either.
Like jewellery consumers, they tend to buy more when prices fall...not when prices jump in a matter of hours.
As you might also recall from last week's Update analysis, that means central banks most probably didn't pile in last Wednesday either...
...and so they probably didn't drive the gold price $45 higher on the US inflation data...
...because they are actually more contrarian than coin buyers or jewelry consumers. The quantity of gold bought by official-sector reserve managers shows a strongly negative correlation with prices.
So it must be Western investors in ETF trust funds driving gold prices higher. Right?
No, not them either.
Both of the 2 largest gold ETFs...the New York-listed GLD and IAU trust funds...registered only tiny inflows last week, ending Friday just 0.06% and 0.13% larger from the previous weekend respectively.
Yes, trading volumes in these stock-market shares jumped, reaching the highest since May.
But that churn left the GLD and IAU virtually unchanged in size, even as gold prices rose by 2.3% against the Dollar. European gold ETFs didn't see any significant new interest either.
This lack of ETF action came as gold prices made their steepest weekly gain in US Dollars since May...
...jumping by almost $60 per ounce.
That sort of strength would typically involve a jump in gold investing demand, as we saw in last week's Update.
But no, not so far on this move. Not in the ETFs at least.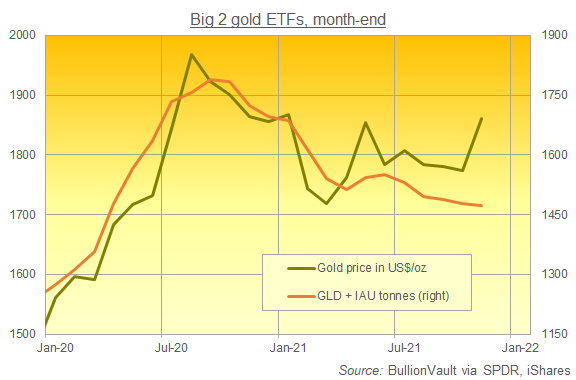 All this pretty much leaves only one other group as suspects.
They are in fact the usual suspects whenever gold prices jump or fall as fast as they did last Wednesday.
They are the "hot money" of hedge funds and other speculators, who bet on gold prices rising or falling through the derivatives market.
No physical metal is involved. But the sheer weight of money behind the Comex gold futures and options market can have a big impact on prices. Because if lots of money suddenly says that gold prices will trade higher from today in 1 month or 3 months' or 12 months' time, then the physical market for immediate delivery will of course reset its own prices to take advantage.
As it happens, we don't have the latest data for the Managed Money category of Comex gold speculators to share with you today.
That's because last Thursday was the Veteran's Day holiday in the USA. Which means that the usual Friday afternoon data release has been delayed until later today. And even when we do get and crunch those figures, they will only run up to last Tuesday night...
...the regular weekly data collection deadline at US regulators the CFTC...
...meaning that last Wednesday's big price jump won't be included.
But with every major source of demand holding such a strong alibi, the Managed Money in gold-price derivatives should step forward, out of the line-up, and take a bow.
Why? Because BullionVault customers, as a group, have proven very thankful for last week's price jump so far.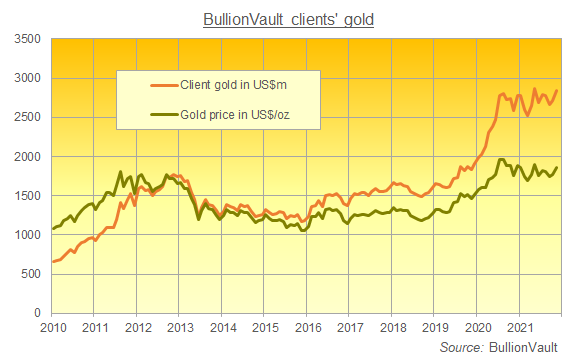 Over the 12 months to last Monday morning, BullionVault users had...as a group...been net buyers of gold averaging 5.8 kilograms per day.
That made for net daily inflows to gold worth around $340,000 at 8th November's opening price.
But over the 7 days since then, BullionVault has seen net daily selling by clients of more than 22kg on average.
That's been worth $1.3 million per day at today's current spot price.
A rush for the exits? Very far from it.
Total vault holdings for BullionVault clients today total 47.6 tonnes of gold, every gram securely stored and insured in each client's choice of London, New York, Singapore, Toronto or (most popular) Zurich...
...and all of it proven by public reconciliation of our client records with the independent custodians' bar lists on the Daily Audit.
That privately-owned stock of gold is 5% larger by weight than it was last Christmas, and 22% larger than it was in New Year 2020, eve of the Covid Crisis.
It's larger than the bullion held by most national central banks. It's also larger than the quantities backing all but 12 of the 133 active gold ETF trust funds traded worldwide. And at today's spot price of $1860 per ounce, it's worth more than $2.8 billion.
So at this rate of net selling, it would take 5 years and 364 days for BullionVault clients to liquidate all the allocated gold they currently own.
A rush for the exits it isn't.
More telling still, what selling there has been has come directly in response to the gold price jumping, moving $100 per ounce higher over the 6 weeks prior to last Wednesday's $45 leap.
We've seen the same in silver too as it surged back to $25 per ounce. Just as with gold, in fact, you may have read the Withdrawal Notice for silver posted on our homepage last week.
This is very rare in silver. It signalled that, having picked up more silver than we like to carry on our trading float...because customers were net sellers...we sold it back to the wholesale bullion dealers and banks we use.
(As a reminder, BullionVault is a peer-to-peer platform, where you can buy or sell from any of our other 99,000 users. That competition keeps prices to buy very tight with prices to sell, helping create the very best value in physical precious metals you will find anywhere. To make sure there's always a quote when you want to trade, BullionVault itself also buys and sells on the Order Board 24 hours a day, every day of the year. You can also trade directly at the London benchmark prices each working day if you prefer.)
Flattening our trading book like this means we now have more cash again, ready to keep quoting prices to buy...as well as holding plenty of gold, silver and platinum ready to sell...using our simple computer trading bots.
Working 24 hours a day, every day of the year, they have no advantage whatsoever on the Order Board. They simply look at the spot price, and quote 2-way prices either side. They need no holidays, cigarette breaks or performance bonuses. But they do need rebalancing from time to time...
...more typically with fresh supplies of bullion, but sometimes with a sale of bullion after clients have become net sellers.
Right now is one of those times. And why not?
Last week's price-jump above $25 per ounce offered a gain of 16% to anyone who had bought on BullionVault at late-October's lows...
...back when wholesale silver was the cheapest in 15 months.
Coin and small-bar buyers didn't see anything like that gain, if indeed they saw a gain at all. Dealer spreads in those 'retail' units run to 10% and more. UK and European Union residents buying silver or platinum coins and small bars must then pay VAT sales tax of 20% or so when they buy...
...money you don't get back on selling!
To some profit-minded traders, in contrast, a 16% rise inside 6 weeks looked too good to pass up on BullionVault. Client selling outweighed client buying, and our trading bots naturally bought the difference...
...a little over 3 tonnes of silver which has now been sold onto a bullion bank and shipped out of the vaults we use back to our wholesale counterparties.
Now, you might think that buying into and then selling out of silver like this sounds nuts.
In which case, good.
Long-term investors continue by far to use precious metals as a 'buy and hold' asset class. The underlying direction, they believe, points upwards. And even if it doesn't, the historical evidence consistently shows that gold in particular works best when used as a way of spreading risk from other, typically more profitable assets...
...led of course by shares and real estate...
...because it tends to rise when those good-time assets lose value over extended periods.
So let the hot money of Comex traders or the quick-click trading of more active BullionVault users come in and go out as it chooses. Their profit-seeking helps build huge daily volumes in precious metals worldwide...
...matching the daily volume in New York's 500 largest shares in gold alone...
...and so helping ensure that you, when you do choose to buy or sell, will find and enjoy tight prices with deep liquidity ready and waiting.
Their heavier trading mean their risk is also greater, because the more often you trade, the more chance of you calling it wrong.
Thing is, however, that the big-picture background to today's financial markets is conspiring to make you join them. It's been trying to push you into speculating with your savings for a decade and more.
How? Interest rates remain at or near zero (if not below, as in the Eurozone and Japan). Inflation in contrast is running at multi-decade highs. So sitting on cash-in-the-bank is a losing proposition in real terms, guaranteed.
Cue a new research report from the Reserve Bank of India:
"Most market participants expect the structural low-yield environment to persist for a considerable time in future.
"In light of [its] likely persistence...it is imperative that reserve managers look beyond the traditional approaches for the management of reserves to maintain and enhance returns."
The solution? According to the RBI's internal research, India's central bank...
...which is one of the most conservative investment institutions you could name...
...and which has built foreign reserves worth $600 billion through being a cautious and regular saver...
...should get with the times and throw off some of its caution.
"If reserve managers can go further down the credit curve," says the report, "then they can earn even higher yield." Meaning that the RBI should buy higher-risk debt alongside US Treasury bonds.
Playing the currency markets is another option recommended to the RBI by its own researchers. "A number of central banks like Australia and Germany have been using a portion of their reserves by exploiting the FX swap market," says their report.
"Active management of gold" is another option, the report says. That might mean looking to lend out some of the RBI's now massive stockpile (say, to gold miners wanting to lock in today's prices for tomorrow's production)...
...or looking to "execute [a] short/medium term view on gold and exploit the opportunities presented by the market". Which would mean trading gold more like a currency...
...buying now to sell again sometime soon, or vice versa if the current price looks high with a likely pullback ahead.
Bottom line? The Reserve Bank of India is only considering this kind of culture shift because low interest rates aren't going away. Ten years after the global financial crisis reached its peak, that's also a clear driver behind the surge in stockmarket trading among Western households, as well as the mini-manias in crypto, NFTs, fine art and all the rest.
"We had to deal with inflation. There was a kind of great speculative pressure."
So said Paul Volcker...chairman of the US Federal Reserve when the 1970s' inflation finally got so bad, it got tackled by double-digit interest rates amid howls of protest from government, business and consumers...in a PBS interview of September 2000.
"It was the years when everybody wanted to buy collectibles. The market was booming, and other markets of real things were booming, because people had got the feeling that things were inflating and there was no way you could stop it."
Fast forward to 2021, and that inflationary psychology is taking root again, even among central-bank reserve managers.
The temptation to trade and speculate will only grow as interest rates continue to lag inflation by an ever-wider margin.
Best of luck if that's how you choose to try defending yourself...alongside your FX trading, crypto choices and stock-market bets...churning some or a little more of your secure, insured physical bullion holdings.
You won't find a cheaper, easier or safer way to do it than BullionVault. But the price risk will of course be all yours to bear.
Adrian Ash
Director of Research, BullionVault
Key data and market events since our last Update and until next Monday:
New Zealand business activity jumped in Oct (Business NZ PMI) as Arden's popularity sinks amid endemic Covid...
Australia unemployment rate jumped in Oct to 5.2% as jobs fell, more people began looking for work. Consumer confidence struggling to rally in Nov (Westpac survey) as consumer-inflation expectations leap to 4.6% per year...
Japan economy shrank in July-Sept, way worse than analysts expected at -3.0% annualized pace...
China consumer-price inflation doubled but only to 1.5% per year in Oct, but factory-gate inflation leapt to 13.5%, worst in 26 years. China still recorded a new record trade surplus however, as exports jumped faster than imports despite global supply-chain problems...
India finance ministry says economy rebounding strongly post-lockdown, but only set to reverse 2020 crash this year (IMF) with industrial output growth now slowing, retail-price inflation too...
Eurozone industrial output slipped less than expected for Sept, Germany consumer-price inflation held at 3-decade high in Oct, 19-nation economic sentiment jumping in Nov (ZEW)...
United Kingdom industrial output fell in Sept from August, helped curb Q3 GDP rebound. Retail sales slipped again in Oct (BRC)...
United States producer-price inflation held at 4-decade record in Oct, consumers' cost of living rising fastest since 1990. Federal government's borrowing smaller than forecast (but still a massive $165bn last month). Consumer confidence now sinking, not rising as expected (Michigan)...
Canada 2020 GDP confirmed as worst plunge on record. Investment in construction continued falling in Oct for 6th month running...
Central-bank watch 4 hikes in 9 decisions as Euro-wannabee Romania and silver's No.1 miner Mexico both raised by 0.25 percentage points, silver No.2 Peru joined Uruguay in raising by 0.5 points...
Central banks this week 10 decisions due, no majors. Hungary tomorrow, then Philippines, Turkey and South Africa on Thurs, plus Africa's current No.1 gold miner Ghana on Friday. Speeches due from US Fed vice-chair Clarida on economic outlook Friday, plus Eurozone ECB chief Lagarde and then Germany's outgoing Bundesbank boss (and arch 'inflation hawk') Weidmann...
So far Monday China's industrial output and retail sales growth both rallied in Oct...
Later today US President Biden will meet China President Xi online. Taiwan and nuclear weapons on agenda...
Tuesday Australia sales of new homes; Eurozone GDP for July-Sept; UK jobs + wages; US retail sales...
Wednesday Australia wage-cost inflation for employers; Eurozone Central Bank's financial stability review; UK inflation; US new home building + permits; Canada inflation...
Thursday New Zealand consumer-price expectations (RBNZ) and house prices (REINZ); Eurozone inflation; US weekly jobless benefit claims...
Friday Japan trade data + consumer-price deflation (expected at 0.5% per year); Germany factory-gate inflation; Canada retail sales...
PLEASE NOTE: This email is published to inform your thinking, not lead it. Only you can decide the best place for your money, and any decision you make will put your money at risk. Information or data included here may have already been overtaken by events - and must be verified elsewhere - should you choose to act on it.