Efficiently withdraw 100g of gold
The vast majority of BullionVault users prefer to keep their bullion safely inside the vault. Fully insured at the lowest costs, it's ready for instant sale at maximum value 24/7.
But if you've bought gold on BullionVault, it's your property and you have the right to withdraw it should you choose.
You can now withdraw gold from BullionVault in the form of a Pamp Fortuna 100g bar.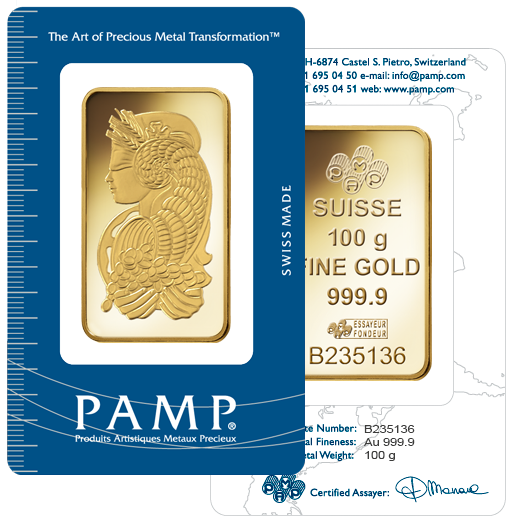 How much does it cost?
If you are an existing customer and already own enough gold in a single vault, you'll pay a fee which depends on where you live. Transport and insurance are included.
How can BullionVault offer bars at such value?
We invite clients to place their bar orders within a defined window of time (usually a few weeks).
To limit risk, each client may order one 100g gold bar per dispatch.
We then batch up the orders received during that window and place an order with the bar manufacturer, meaning we do not have to finance stock.
We offer a standard bar size from a respected London Bullion Market Association (LBMA) refiner.
This process allows us to keep the operational burden to a minimum and keep prices low. You can withdraw bullion from BullionVault in other formats but different rates and processes apply.
What do I need to get a gold bar?
A BullionVault account validated (identity and ownership of bank account proven) as a personal account - not a business, trust or pension/retirement account.
At least 100g gold held in a single vault within your BullionVault account.
Enough money in your account to pay for manufacture and insured shipping.
Proof of your residential address for shipping.
Where will you deliver bars to?
We will only deliver to your home address as proven by a recent credit card statement or utility bill. You must not share this address with another residence. We will not deliver to a commercial address.
You can request a 100g gold bar withdrawal to these countries.
Log in to your account to request a 100g gold bar.
I'm new to BullionVault. Can I still request a bar?
Yes. Before being able to request a bar you'll need to:
deposit funds by bank transfer (UK) or by wire (US),
buy gold in one of the secure vaults (commission 0.05 - 0.50 %),
upload proof of identity, address and ownership of the bank account used to deposit funds.
Standard BullionVault charges to hold and insure gold in the vaults will apply until your gold is withdrawn.
Why BullionVault?
BullionVault is the world's largest online investment gold and silver service, allowing private investors access to the professional bullion markets. BullionVault manages $3.8 billion in client property for over 100,000 active users.
BullionVault gold and silver is securely stored in professional vaults. Because of this the custody fee, which covers storage and insurance, is much lower than anything comparable.
Only BullionVault gives you the opportunity to buy gold and silver at the benchmark London Prices published on the London Bullion Market Association website.
It's free to open a BullionVault account and typically takes under a minute.