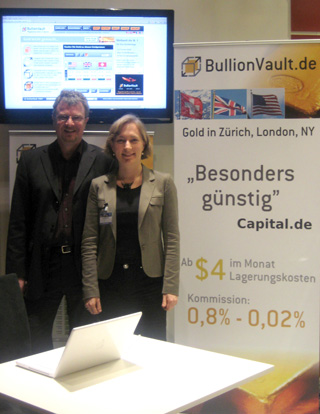 LONDON, February 05 2008 -- BullionVault.com -- the world's fastest-growing route to private gold ownership -- starred from the 1st to the 3rd February at this year's World Money Fair in Berlin, Germany.
One of the most important international fairs on the metal & coin investing calendar, the World Money Fair 2008 attracted some 260 exhibitors and 11,000 visitors from around the world. Hundreds of private investors, collectors and traders made a point of visiting BullionVault's stand to learn more about buying investment-grade gold online, and storing securely in their choice of either London, New York or Zurich, Switzerland.
"The emphasis of the fair was of course on bullion and collectible coins," said Sonia Franchini, European Operations Executive at BullionVault and presenter at the gold service's World Money Fair stand. "But for anyone considering a direct investment in gold itself, BullionVault's simple and low-cost service really stood apart."
BullionVault's online gold-trading platform was made available in the German, French and Italian languages in Nov. 2007, with full online and telephone support. Building on its rapid growth in the British and US gold investment markets, BullionVault now looks after more than five tonnes of solid gold bullion on behalf of private individuals from 63 countries worldwide.
---
Gold bullion
- Trade online at live spot
gold prices
.