Download our BullionVault app to either your iOS or Android device to start buying and selling bullion on the move. Over $278 million (£206 million) worth of gold, silver, platinum and palladium have been traded via orders placed through the apps on smartphones and tablets in the last 12 months.
Key functions of our bullion trading app
The app is free to download on either type of device. A BullionVault account isn't required to download and access a number of the app's key elements.
Without a BullionVault account
Live gold, silver and platinum price charts are available in four different currencies:
US Dollars
British Pounds
Euros
Japanese Yen
Monitor short-term price changes over the last hour. You can also view price movements over the last day, month, year and 5 years.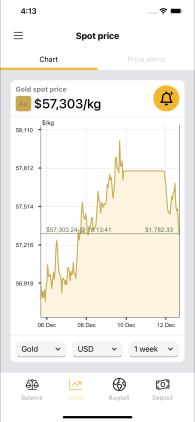 You can access the live bullion-trading markets without logging in and customise the app so only markets of interest to you are displayed.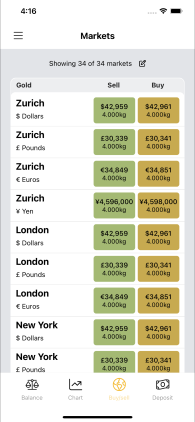 With a BullionVault account
BullionVault clients can securely sign into their account on the app and check their current balance of bullion, currency and the up to date valuation of their gold, silver and platinum holding. Open and closed orders from the past 30 days can all be reviewed. You can then buy gold, silver and/or platinum within seconds or sell your bullion with an instant settlement. All of which is secured in your choice of a Zurich, London, New York, Singapore or Toronto vault.
Convenient trading
Nine different language settings are available. These include the major European languages along with Japanese and Chinese. Through the app you can buy and sell bullion at weekends and holidays because, unlike any other physical bullion market worldwide, BullionVault's live order board remains open 24/7.
The apps have been installed over 500,000 times over the past three years.
User reviews include, "The only app which made mobile gold trading possible!" and "really quick and simple to use".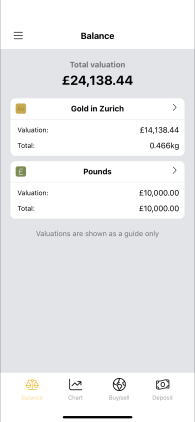 Free starting silver
Opening a BullionVault account provides you with 4 free grams of silver so you can start trading risk free. This includes downloading and opening a trading account with the app. The process from download to trading your free silver takes less than 90 seconds.
Largest gold trades via the apps
Android platform: 23.255kg of gold bought for £949,966.75
iOS platform: 32.000kg of gold sold for $1,424,320.00
Largest silver trades via the apps
Android platform: 312.427kg of silver bought for £153,089.23
iOS platform: 600.000kg of silver bought for £319,200.00
Largest platinum trades via the apps
Android platform: 12.008kg of platinum sold for £320,205.33
iOS platform: 10.00kg of platinum bought for £238,880.00
Largest palladium trades via the apps
Android platform: 1.150kg of palladium bought for $56,624.85
iOS platform 2.000kg of palladium bought for $93,000.00
Download the app today and start trading remotely via iOS or Android