BullionVault is proud to have supported the British Library's 2022 exhibition Gold.
Showcasing 50 spectacular manuscripts from around the world, the exhibition ran from Friday 20 May to Sunday 2 October at the Library's St Pancras site on Euston Road in central London.
To enable BullionVault users to continue to enjoy all that the British Library has to offer, this month we are running a prize draw for five winners to receive a discount of 20% on a British Library annual membership saving you up to £24.
British Library memberships prize draw terms and conditions below.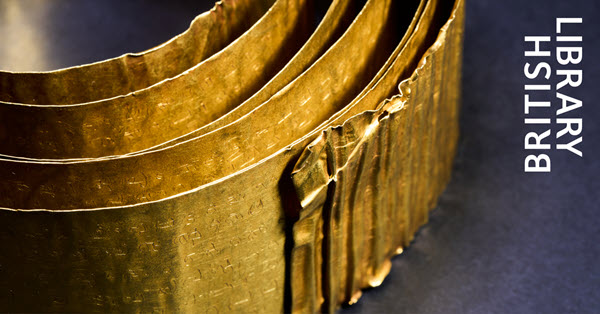 20% discount membership prize draw terms and conditions
BullionVault is a UK site and unless otherwise stated all prize draws are open to UK residents aged 18 or over.
Our prize draw for five winners to receive a discount of 20% for either a member or joint member British Library annual membership may be promoted over several different websites simultaneously.
A maximum number of 1 online entry per individual may be made into this draw. Only one postal entry per person for this prize draw can be accepted.
Persons connected with BullionVault are ineligible.
Prize draw closes on 31 January 2023 at 23:59. Winners will be selected at random by computer on the 2 February 2023.
An email will be sent to the winners informing them of their win. If you are a winner, simply follow the instructions on the email within 7 days of it being sent to claim your discount on a British Library membership.
If your British Library membership discount is not claimed within 7 days, your entitlement to your British Library membership discount will be lost.
Unclaimed British Library membership discounts may be redrawn.
British Library memberships are subject to availability should any British Library membership be unavailable, a prize of similar price or specification will be substituted.
Prize draw rules are subject to change.
By submitting your information online, including your email address, you agree to receive emails related to this prize draw, the Gold exhibition at the British Library and from time to time information about BullionVault's products and services. By unsubscribing from these emails you will no longer receive these emails and will also be removed from the draw.
Free entry to the 20% discount British Library membership prize draw - If you would like to enter our prize draw without submitting your email address to BullionVault, please send a postcard with your name and address and contact phone number to the promoter:
BullionVault (Galmarley Ltd),
3 Shortlands (7th Floor),
Hammersmith,
London,
W6 8DA,
UNITED KINGDOM.
Registered in England and Wales, Company number 4943684
Registered office: 7th Floor, 3 Shortlands, Hammersmith, London W6 8DA.