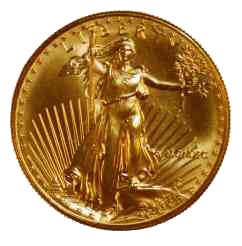 There's a reason why "all that glitters is not gold" is a cliché.
Even when Shakespeare first coined the phrase (as "glisters" not "glitters") he added "often have you heard it told". He knew that variations of the warning had been sounded out from Aesop to Chaucer.
For as long as gold and silver have had value, there have been precious metals merchants ready to take advantage of hopeful buyers. This doesn't just apply to "fool's gold" dealers of fake gold bars or bogus silver coins. The legitimate gold and silver bullion market has also had its share of bad actors, stinging investors with hidden or unnecessary charges.
As Shakespeare continued, in The Merchant of Venice, "gilded tombs do worms infold." Even real gold can be mis-sold, or contain a hidden burden of costs.
As in any investment market, some dealers are trustworthy, while some may be less interested in providing a good value service.
Study the market
So what gold dealer can you trust?
"Study the market carefully to avoid falling victim to high-pressure sales tactics," warned Greg Abbott, the Texas State Attorney (now Governor of Texas), in his 2007 report into gold dealers.
The experienced team at BullionVault aims to make as much information as possible available online, on this page and others through our site, so potential investors can make informed decisions about buying and selling gold and silver.
Abbott's investigation of the sharp practices of some precious metals dealers found that US consumers - "particularly senior citizens" - had been tricked into buying gold coins for up to three times their fair market value. A gold dealer would often simply use the word 'rare' to bump up the sale price.
Professional rates for gold bullion
The market for rare (or numismatic) coins from gold coin dealers is probably best left to knowledgeable collectors of gold and silver coins. But gold bullion itself can be bought with full security and certification for its intrinsic metallic value, and it's perfectly easy to follow the true value of gold - you can see gold's spot price now - meaning you won't get cheated by credible dealers charging above the market prices for gold and silver bullion.
But bullion dealers can charge mark-ups of up to 8% above the current market price. Most well informed buyers of gold bullion choose a gold dealer who will let them avoid that commission level - associated with small bars and coins - and instead gain access to the low margins of the professional market with mark-ups of as little as 1%. Here's how.
Gold dealers and VAT on silver
Buying and taking physical possession of some precious metals is treated for UK tax purposes as buying a commodity rather than an investment. This means than when a gold dealer sells silver bars or silver bullion it attracts VAT at a current rate of 20% in the UK, eating into any potential short or long-term profits.
Because BullionVault's silver bars are stored in secured vaults with no need for purchasers to take physical possession of the bullion, it is considered an investment rather than a commodity and the transaction is not taxed, providing UK investors with considerable comparative savings.
Avoid high-pressure gold dealers
BullionVault is a company that aims to get you precious metals for a mark-ups of less than 1%. We do not engage in high-pressure selling. In fact, we don't even employ a single salesperson. Instead, we think that people looking to buy gold online should be provided with as much well-balanced, easily accessible information as possible before making a decision about how to invest.
All that information - whether about silver coins or gold bullion, ETFs or the London Bullion Market Association (LBMA) - is completely free, for you to read at your leisure.
Safety, convenience and the lowest margins
When you're informed about the specifics of the gold market and happy that you want to make an investment, we think you'll be able to choose the best gold dealer based on safety, accessibility and value. As it happens, your safest option will also turn out to have the most competitive prices.
Discover BullionVault
We'd like you to assess the choice of gold dealers for yourself, so we've put some important links for you at the bottom of this page. As a starting point if you considering buying gold this article will explain BullionVault to you, and also introduce you to other alternative gold dealers.
The reviews of our service collected using Trustpilot will let you see what other BullionVault users have said when comparing BullionVault to other vendors.
And once you've read our checklist for gold buyers you can also go straight to our getting started guide. You'll see from this guide that we give 4 free grams of silver to everyone who opens an account on the BullionVault site. Can you find another gold dealer with the confidence to do that?
Gold coins for delivery
While we do think that owning wholesale bullion in a market-accredited vault is the safer, cheaper and easier way to own gold, silver, platinum and palladium, we also recognize that some people who buy gold also like to keep a little gold bullion at home, so we do now enable UK users to buy gold coins.
Relevant Market Analysis
An up-to-date index of stories about gold and the bullion market published by BullionVault's own research staff.
A curated and regularly updated collection of the thoughts of the most noted authorities in the gold sector.