The Order Board Line.
Each order board line is composed of several elements:


title
The title tells you which vault and which currency the prices refer to.
When logged in you can press a middle button and an order will be set up for you, which you simply check and confirm.


middle buttons
These middle buttons show you the best prices you can buy at (gold, grey or blue depending on which metal you are buying) and sell at (green). These are posted by other users.
The price is written on top in bold type and is in currency units per whole kilogram.
The figure written in ordinary type below tells you how much you can trade at this price - in kilograms.
Leave your mouse over the button and it will work out the amount available for you. It will also do a conversion into the Troy Ounce price.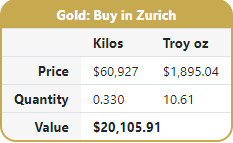 tooltip
The other boxes are slightly less attractive than the best price. If you are a buyer wanting more gold than is available at the best price look at the gold prices ascending to the right:

This shows an additional 4.305kg of gold at $18,018 per kg, and a further 12.056 kg at $18,027 per kg.
If you are selling look to the green prices descending to the left:

Remember, you can post your own orders between the best prices, and then it will be your price which is on the button.

© BullionVault Ltd .