UK's 'Brexit Chaos' Leaves Gold Price Weakest in Sterling, 2-Week High in Euros
Wednesday, 3/13/2019 14:07
GOLD PRICES rose back to start-March levels against all major currencies on Wednesday, reaching $1308 per ounce as the US Dollar fell on the FX market and the UK Parliament prepared for the second of this week's 3 key votes on either agreeing, delaying or cancelling the world No.5 national economy's 29th March 'Brexit' from the European Union.
"Regaining the key $1300 level, [gold prices are being] buoyed by safe haven demand from Brexit chaos," claims the Reuters news agency, also pointing to weakness in the US Dollar after "softer US data."
Despite the political turmoil in Westminster however – where Prime Minister Theresa May last night saw her Withdrawal Agreement with the EU rejected out-of-hand for a second time – only
the gold price in UK Pounds per ounce
held a loss for the week so far, trading down at £992 as Sterling whipped back above $1.31 on the FX market.
Gold priced in all other major currencies rose in contrast, with Euro gold hitting €1158 per ounce, a near 2-year high when reached last month.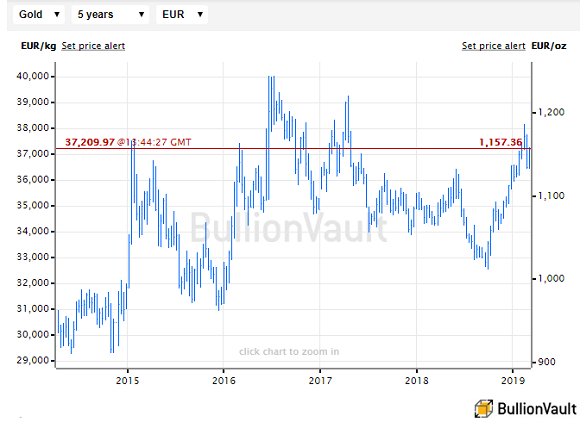 After yesterday brought below-forecast US inflation data, new figures Wednesday said machinery orders in world No.3 national economy Japan fell 2.9% in January from New Year 2018, while industrial output across the 19-nation Eurozone – the single largest economic bloc – fell by 1.1%, a smaller decline than analysts expected.
US durable goods orders today beat Wall Street's outlook with a 0.4% rise, but February's pace of inflation in US wholesale prices slowed to 2.5% excluding 'volatile' fuel and food.
"Despite an unemployment rate near a five-decade low and faster wage growth, inflation is tame," says the AP news agency, "a major reason the Federal Reserve has paused its interest rate hikes."
Ahead of next week's March decision and projections from the US central bank, speculators on the CME futures market
now puts zero odds
on the Fed raising interest rates before February 2020, with the likelihood of a rate cut jumping to more than 1-in-4, almost twice the chance forecast a month ago.
The Fed's last set of projections,
made in December
, said FOMC members saw a 2020 range of 2.4% to 3.6% for the central bank's key interest rate.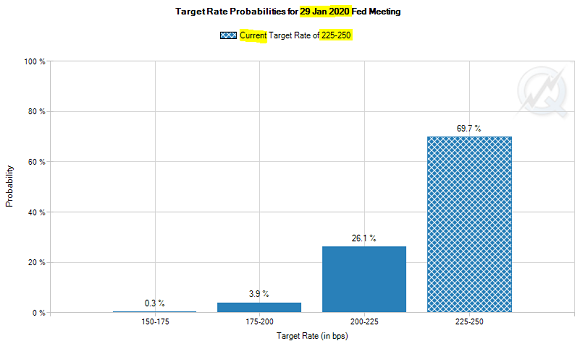 Benchmark gold prices in China – the metal's No.1 mining, importing and consmer nation – fixed Wednesday some 1.3% higher for the week so far in Yuan terms.
That held the premium for metal delivered in Shanghai versus Dollar quotes for London bullion above $15 per ounce, near the strongest incentive for new inbound shipments of 2019 so far.
Asian-Pacific equities meantime fell for the first time this week, holding over 15% below New Year 2018's record high.
European stock markets rose however, with London's FTSE100 adding 1.0% from last week's close even as the Pound rallied on the FX market.
Slashing UK import tariffs
in the event of a "no deal" Brexit – an outcome due to be blocked by today's voting in the House of Commons – the UK finance ministry has cut its 2019 GDP forecast to 1.2% but said public borrowing will come in £3bn lower than previously forecast.
If the UK Parliament does reject a "hard Brexit" for 29 March tonight, Thursday will bring a vote on asking the other 27 EU states if Britain can delay the exit date it set itself 2 years ago.
The latest UK wrangling struggles to make the
front page of newspapers
in other EU nations today, relegated behind coverage of Boeing 737 Max 8 airplanes being grounded over safety fears following the death of 157 people in
Sunday's crash in Ethiopia
.